There is never a perfect time to redesign the closets in a home. No homeowner leaps to envision days on end with closet contents strewn around various rooms and piled on to spare beds. But when the time finally comes, your clients will welcome a wide variety of options to add closet cabinets, customize closet organizers, and choose closet systems.
Typically, the closet is where homeowners hide their mess and store various items that may not have earned the right to take up precious closet real estate. Share these 8 closet trends with your clients, and they will find they can actually love their closets.
neutral closets
hardware with flair
stylish door fronts
closet systems
clean design
linen closet transformation
basement closets
garage closets
How Do You Design a New Closet?
As a cabinet contractor, you can step beyond the basic "single shelf with hanging rod" type of closet. There are many affordable closet systems available today that you can help your clients customize to keep any closet space organized.
Start with the dimensions of your closet space: length and width. In terms of configuration, Are the closet doors open to the front, and you reach in for hanging or folded items? Is there space for a small bench, stool, or built-in sitting area? Would it be possible to walk into the closet and have room to move around and select clothing?
When you know the specifics of the space and how it's used, you can recommend a closet system that suits your client's needs and lifestyle to a "T."
How Do You Create More Closet Space In an Existing Closet?
You can use the same closet system to maximize storage and even increase closet capacity. For example, in a standard front hall closet – which often becomes a repository for more than just coats – you can add functionality to the basic hanging bar and shelf or remove those existing elements entirely in favor of a mix-and-match closet organizer.
In a typical front hall closet, homeowners will store coats in various lengths and often boots and shoes. You could also find an ample supply of gloves, hats, scarves, ball caps, and even an umbrella or two. With the addition of closet organizers, you can assign space for each of those items without sacrificing precious real estate inside the closet.
What are the latest trends to bring order to the most unorganized closet?
1) Bedrooms are bold, but closets want to be neutral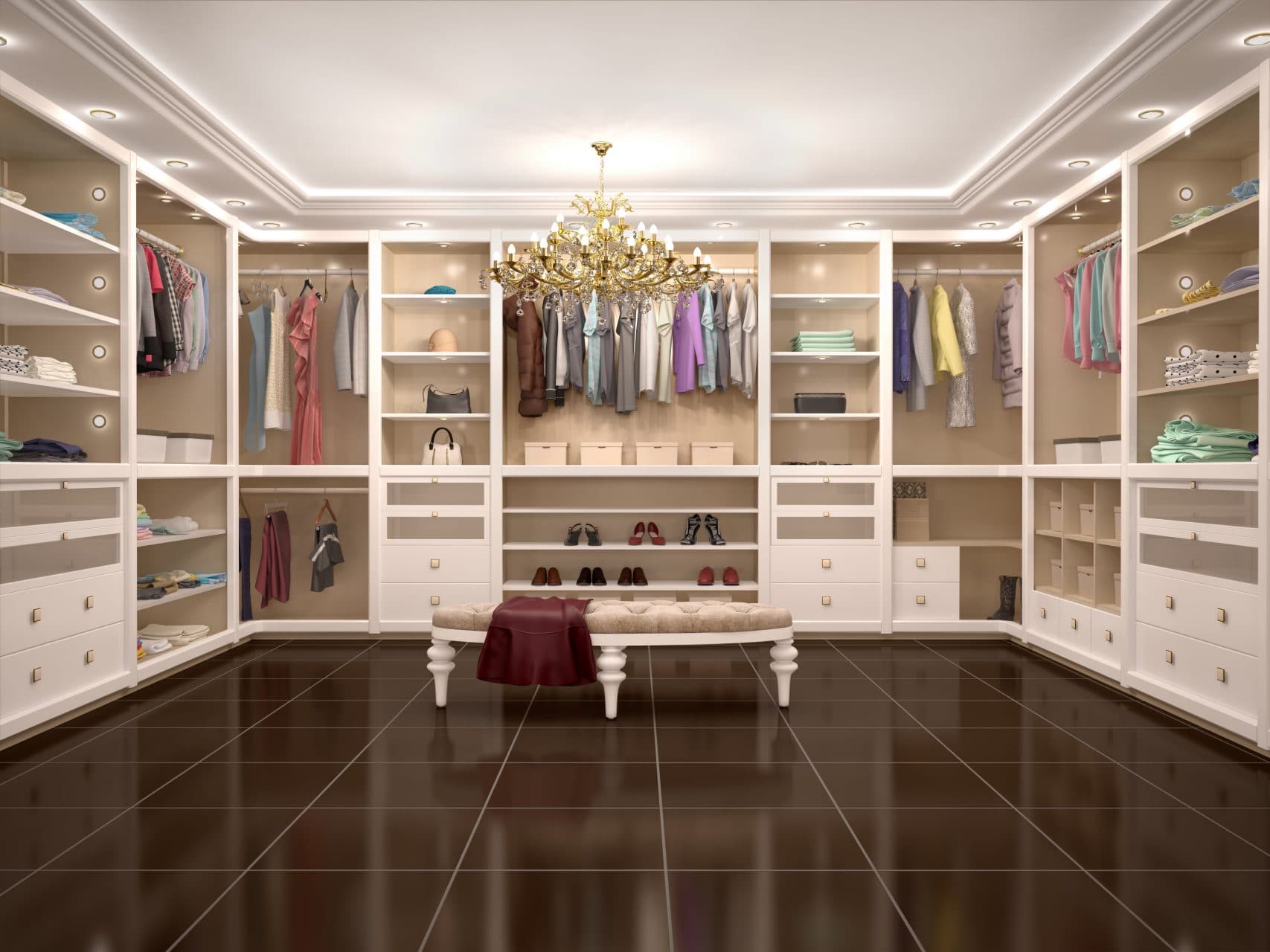 Homeowners are personalizing rooms with bold colors and patterned wallpaper, but in a closet, neutral rules every time. This is why closet systems come in popular neutral colors like white, espresso, salt oak, and cherry. The ideal closets allow the homeowner to make a statement with organization, not color.
2) Bring in extra flair with hardware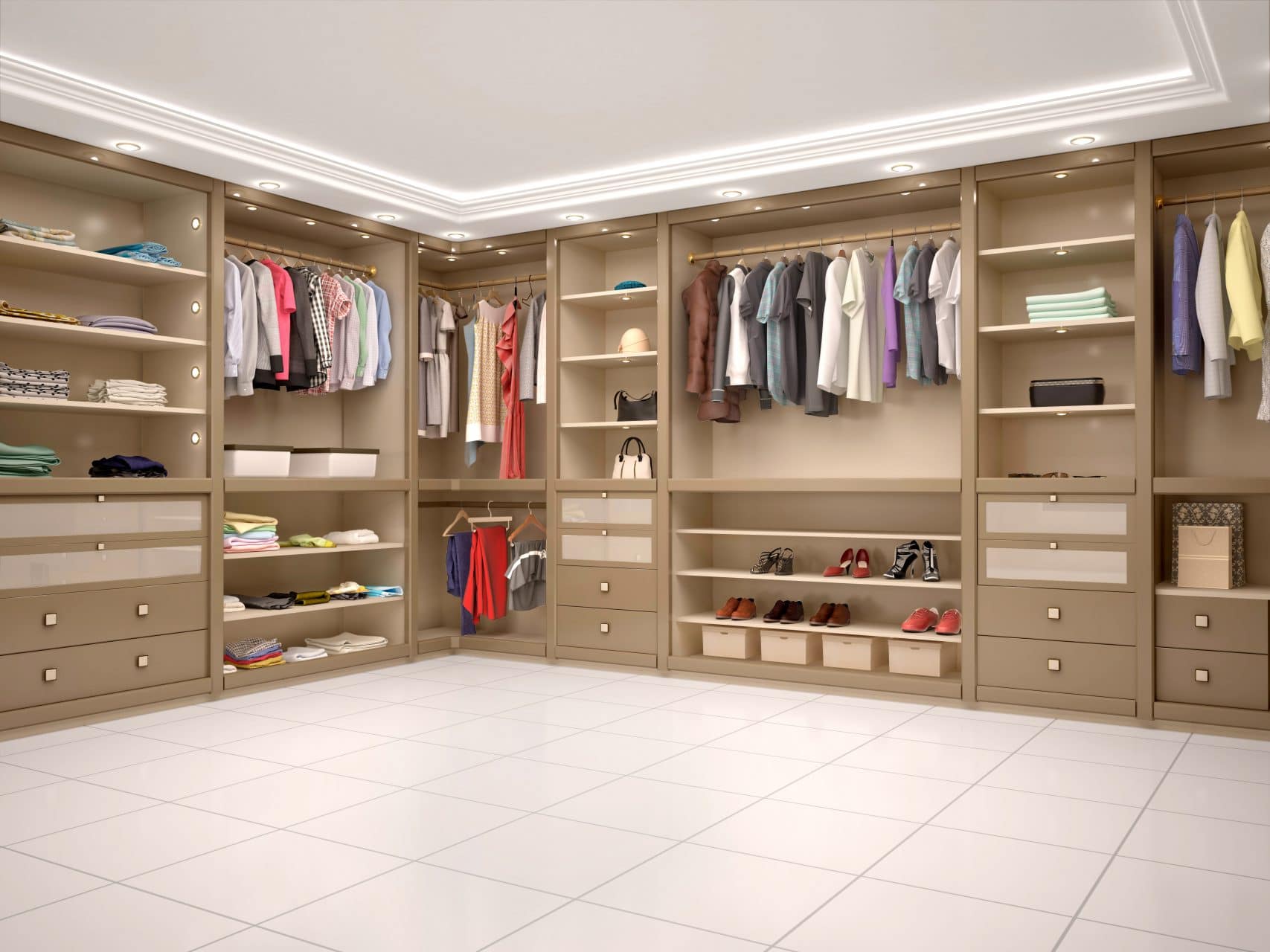 A new trend in closet design is to add a statement with personalized hardware. Does your client want to add accent colors to the closet? Knobs, handles, hinges, and other hardware are available in finishes such as gold, nickel, brushed nickel oiled brass, and more. When you add hardware with an extra pop, you can give a closet with a lot of personalities that a discerning homeowner will appreciate.
3) Add stylish door fronts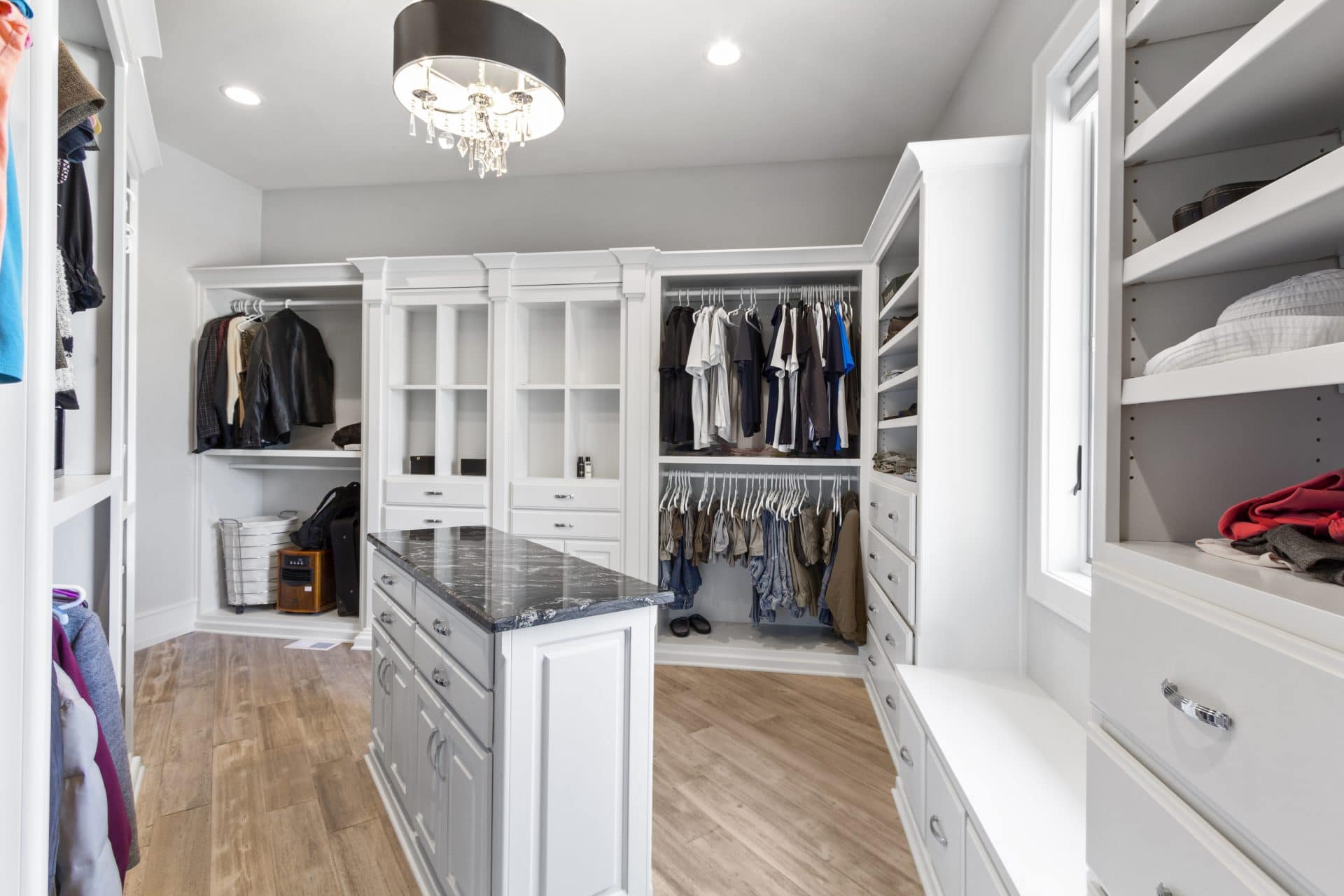 With the addition of stylish closet doors, homeowners can extend elegance inside their closets, elegance that's enhanced with supreme organization. Door fronts can be modern and flat, Shaker-style with one clean line around the door frame, or Tacoma-style with another layer of beveling on the frame. Another popular option is to substitute glass door fronts in the place of solid wood for added shine. Each style can give the closet a completely different feel.
4) Transform and optimize small spaces with closet systems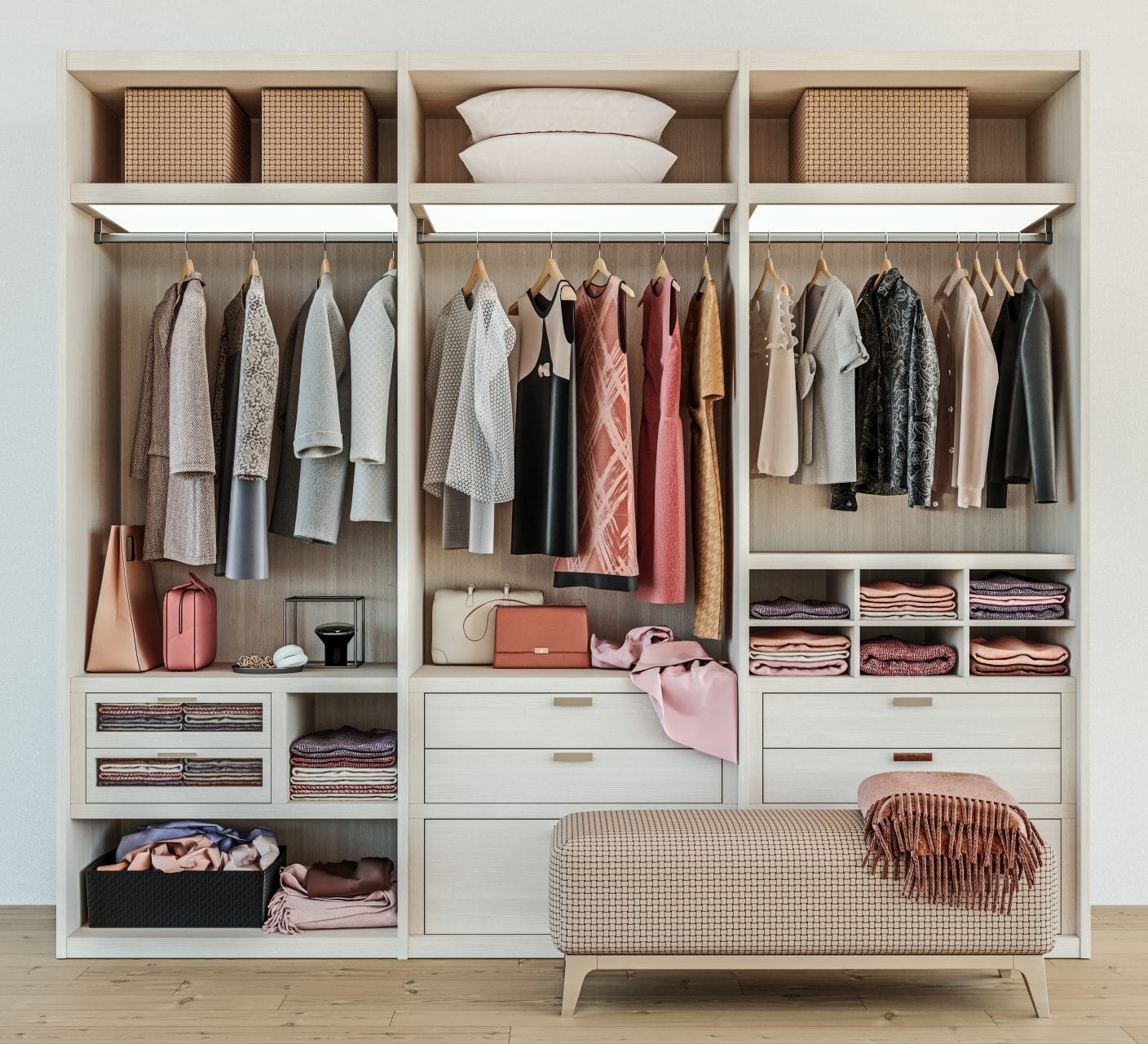 Is your client complaining about dead space at the end of a hallway? Or a useless gap in their current closet? Could you easily add a 19.5" shelf or a small hanging bar for floor-length items? Your expertise and the right closet system and accessories can turn any useable space into a small closet.
For homeowners willing to repurpose an extra bedroom, you can create a custom walk-in closet. Adding an island with drawers for accessories can complete the walk-in closet many homeowners dream about.
An attic is also prime real estate for an extensive closet system. You can use organizers with cabinet doors and drawers to keep the dust away from items used less frequently.
5) Clean design for the minimalist

Not every closet needs to be a showcase for clothes. Many homeowners seek straightforward, functional simplicity to keep their wardrobe organized. With mix-and-match cabinet systems, they can hang shirts and blouses on the top and store shoes and boots on a shoe rack on the bottom. Take a streamlined, minimalist closet design one step further by including a section of drawers for socks, ties, jewelry, and accessories, plus a cabinet for hat boxes or other small items.
6) Transform the linen closet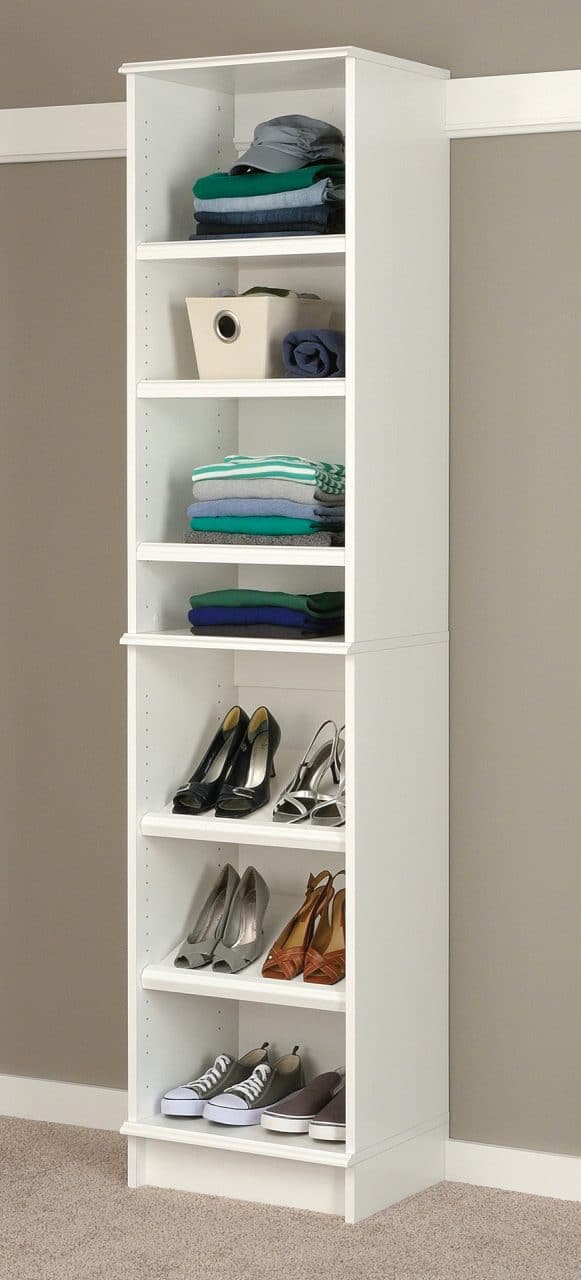 A closet system with moveable shelves, drawers, shoe racks, and cabinets allows a homeowner to customize the linen closet for their specific storage needs. Sheets and towels can have their own shelf, while wash clothes and pillowcases can live in a drawer to eliminate possible spillover. You can use cabinets in a linen closet to keep extra bathroom toiletries out of sight and organized yet still accessible.
7) Closet systems organize a basement too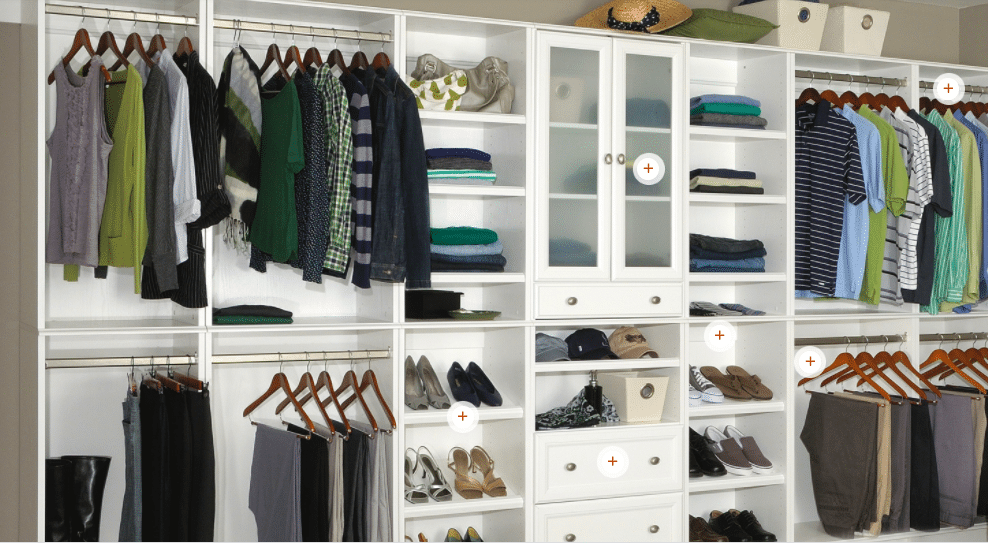 If a homeowner tells you they need to get the holiday decorations and crafting supplies out of the spare bedroom, a closet organizer can help. Choose organizers with moveable shelves to accommodate larger boxes and containers. When installed in a basement, you can put all of the storage items you don't want in the garage but don't want in a bedroom in the basement closet. That's where closet systems with moveable shelving help.
8) Add function and storage to a disorganized garage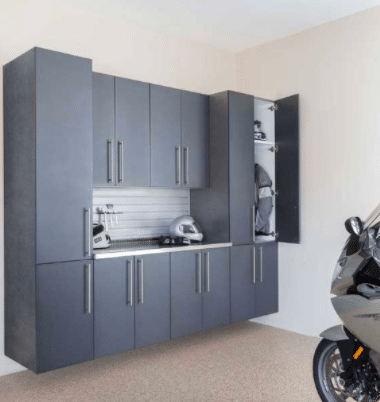 Heavy-duty closet systems can be both durable and attractive for use in a garage. These systems come with shelves that can support heavy items and drawers to organize and securely store tools, rags, other small items, or sporting equipment.
Stay on top of closet design trends by working with Cabinet Corp.
There's no doubt about it: organized closets increase the value of a home and add the impression of space. But even homeowners with no plans to move will appreciate how customized closet systems help them keep their homes clean and organized.
CabinetCorp Closet Systems & Organizers are simple to configure and easy to install. You can transform your client's walk-in and reach-in closets with customizable soft close drawers, tilting shoe shelves, double-hang cabinets, and cabinet doors. Cabinet Corp has closets for every space, every personality, and budget. Contact our expert cabinet designers today for solutions for your client's closets and cabinets.