When planning a kitchen remodeling project with your client, it is essential first to understand the style of the kitchen they want for their home. If the client lives in a modern-style home that features clean lines and smooth textures, a kitchen with heavily overlaid cabinets in a traditional style would seem out of place. Similarly, in a traditional-style kitchen, smooth, frameless cabinets with no texture or added features would seem alien.
No matter the kitchen's style – contemporary, traditional, or eclectic – one type of cabinet seems to work well across the board consistently: Shaker-style kitchen cabinets.
A current survey of interior designers conducted by Homesphere identified 16 different styles of kitchens popular today, ranging from Traditional, Transitional, Modern and Contemporary to Farmhouse, Beach, Rustic, Mediterranean, and on – see the complete list of styles here. For our purposes here, let's explore the four kitchen styles most clients are asking for:
Traditional
Transitional
Modern
Contemporary
What are Shaker-style kitchen cabinets?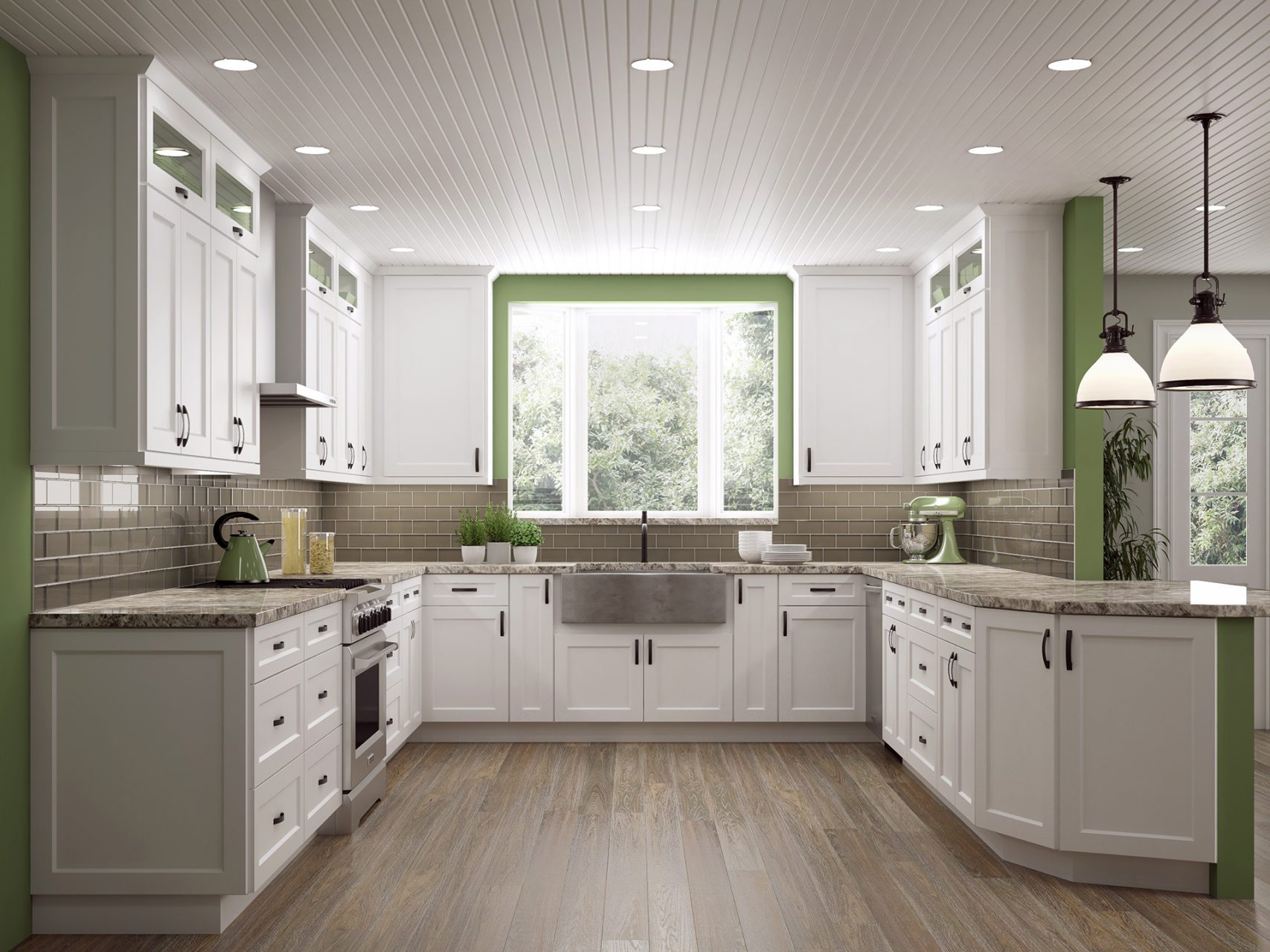 Shaker style originated with the Shaker religious sect. Shakers made furniture and cabinetry that favored simplicity and utility. Today's Shaker-style cabinets are constructed with the same principles in mind.
The essence of Shaker-style emphasizes form, function, and durability – rather than embellishment and flare. This might sound a little boring, but the Shaker style's clean lines, neutral colors, and wood grains make them a timeless choice when it comes to kitchen cabinets. Shaker-style cabinets fit into any kitchen style, and your client can further personalize for a specific look or trend in the future without completely renovating a second time.
Why are Shaker cabinets so popular?
The simplicity of Shaker-style cabinets is key to their enduring appeal. Starting with a solid wood door, the Shaker-Style cabinet has one frame around the entire piece to give a single clean line with no extra beveling or texture. Because these cabinets are almost a blank slate, they can adapt to any kitchen style.
Are Shaker cabinets trending?
The real story is that Shaker-style kitchen cabinets have never gone out of style. And in today's market, where clients can choose from a wide selection of popular kitchen styles, these timeless cabinets readily find a place in nearly any style and will never appear dated.
Traditional Shaker-style Kitchen
In a traditional-style kitchen, the cabinet doors and drawers often have multiple overlays with a beveled edge. The Shaker-style kitchen cabinet fits the bill with the addition of overlays and beveling to the standard door and drawer front. To keep the look more traditional, choose Shaker-style cabinets in a wood finish, or select a white or antique glaze finish. Add antique-look door and drawer handles, or anything with a little more flair to enhance the kitchen's traditional style.
Modern Shaker-style Kitchen
Shaker-style kitchen cabinets make a natural choice for the modern-style kitchen. Modern design is all about the simplicity of minimalist design and strives for a clean and uncluttered look. With its clean lines, the Shaker-style cabinet is perfect. Homeowners can add hardware or leave the doors and drawer fronts plain for a truly modern look. Shaker-style cabinets look great in various hues of white, gray, black and navy, or any variety of dark wood grains.
Transitional Shaker-style Kitchen
The transitional-style kitchen spans traditional and modern styles. The addition of a beveled edge to the Shaker cabinet's clean lines creates a more contemporary feel. Often designers will choose Shaker-style kitchen cabinets to bridge that gap and provide a backdrop for either more traditional or modern kitchen decor.
Contemporary Shaker-style Kitchen
The contemporary-style kitchen is one that incorporates today's trending appliances and colors. Because Shaker-style cabinets fit well with any color, personality, or decor the homeowner chooses, they make an ideal choice for the contemporary kitchen. Another advantage of Shaker-style cabinets is that they can be readily updated to align with the next style trend. This adaptability is essential, as cabinets represent the most costly line item in most kitchen remodel budgets. Whether your client prefers an all-white contemporary style today but may lean toward stainless steel and brushed nickel a few years down the road, Shaker-style cabinets will suit them perfectly.
How much do Shaker-style cabinets cost?
Pricing for a 10-ft x 10-ft set of Shaker-style cabinets will range from $2,000 to $13,000, according to HomeAdvisor. One significant benefit to the Shaker-style cabinet is if your client's existing cabinet bases or boxes are in good shape, you have the option to paint or reface the existing boxes and complete them with Shaker-style doors and drawer fronts. Refacing updates the kitchen for a much lower cost. When you work with an online kitchen wholesale cabinet company like CabinetCorp, you can save as much as 40% or more than purchasing from a big box home improvement store.
Explore these Shaker-style kitchen cabinet ideas to find a look that will fit nicely into your kitchen style.
White Shaker-style Kitchen Cabinets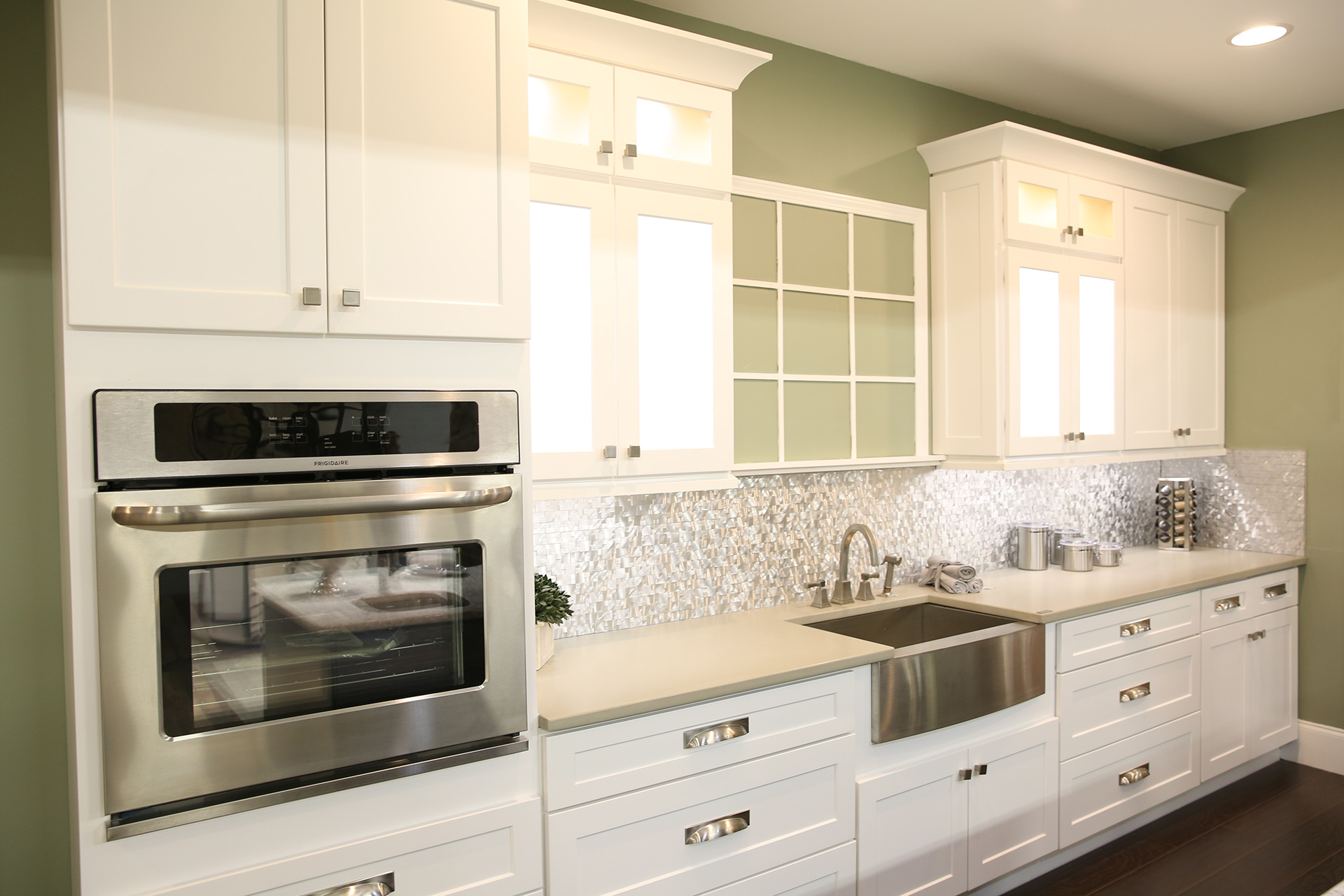 White Shaker-Style kitchen cabinets are versatile and beautiful. White kitchen cabinets work seamlessly with any choice in hardware, backsplash, flooring, or countertops.
If a modern look is a goal, pair white shaker cabinets with a glossy countertop and contrasting flooring.
Transitional-style kitchens with the Shaker-style cabinets, mix clean lines, and metal or wood accents. Or arrive at a beach-style kitchen by adding bold colors to the walls and choosing a lighter shade of wood flooring or wood vinyl planking.
White Shaker-style cabinets also blend well with the traditional style of butcher-block countertop and complementary wood flooring.
Gray Shaker-style Kitchen Cabinets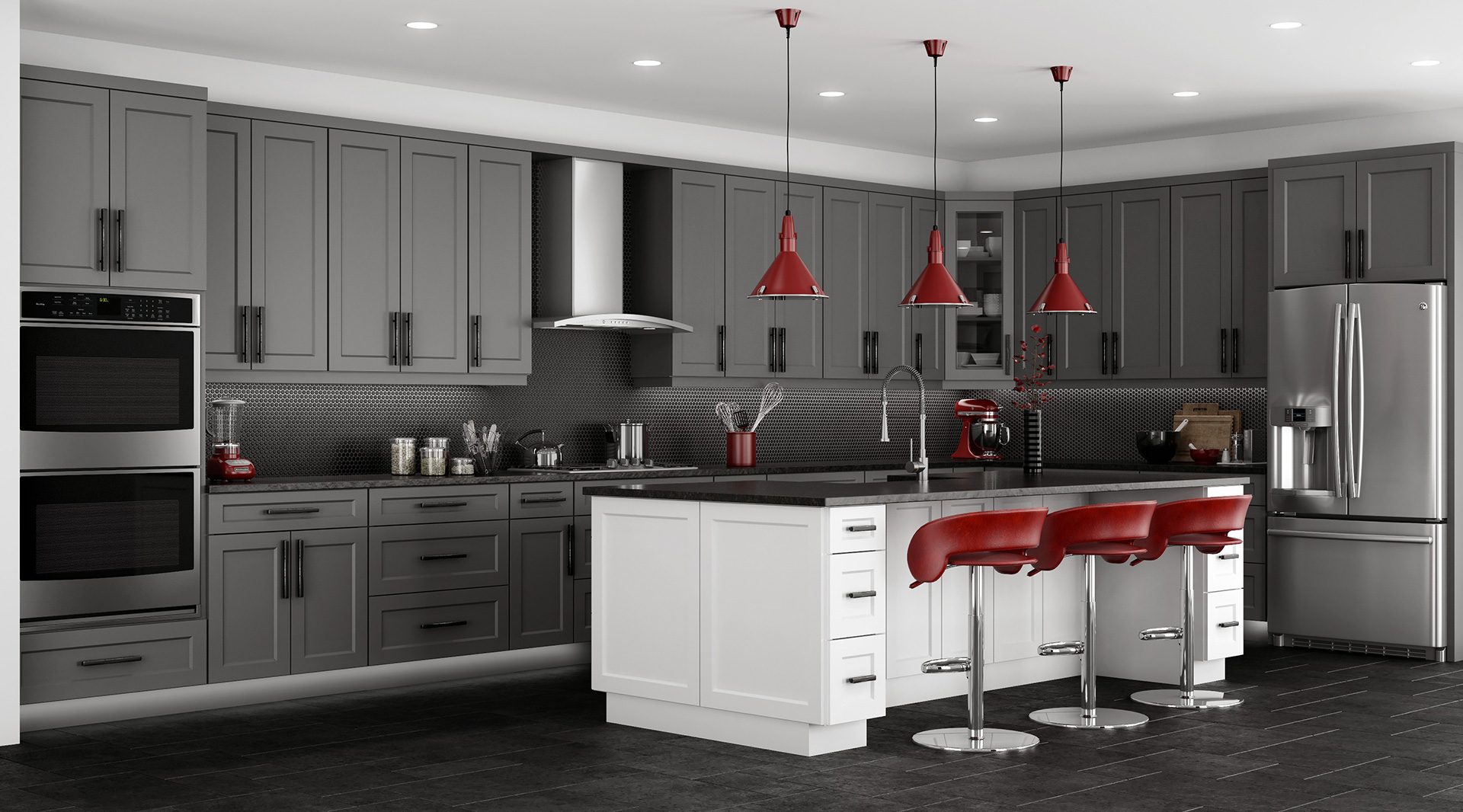 Gray is a neutral color that has exploded in popularity. Gray kitchen cabinets can bring comfort and balance to your client's kitchen.
Dark gray Shaker cabinets are warm and neutral and work well in any size kitchen. With sleek, clean lines, charcoal Shaker-style cabinets pair beautifully with modern or contemporary appliances and countertops to give the kitchen a modern minimalist feel.
For a transitional style, you can pair the charcoal Shaker-style cabinets with brushed nickel hardware.
Bring a stark contrast to the kitchen with dark gray Shaker cabinets and white granite or marble countertops and a white train tile backsplash will create an airy open feel, or add wood accents for a farmhouse-style kitchen.
Antique White Shaker-style Kitchen Cabinets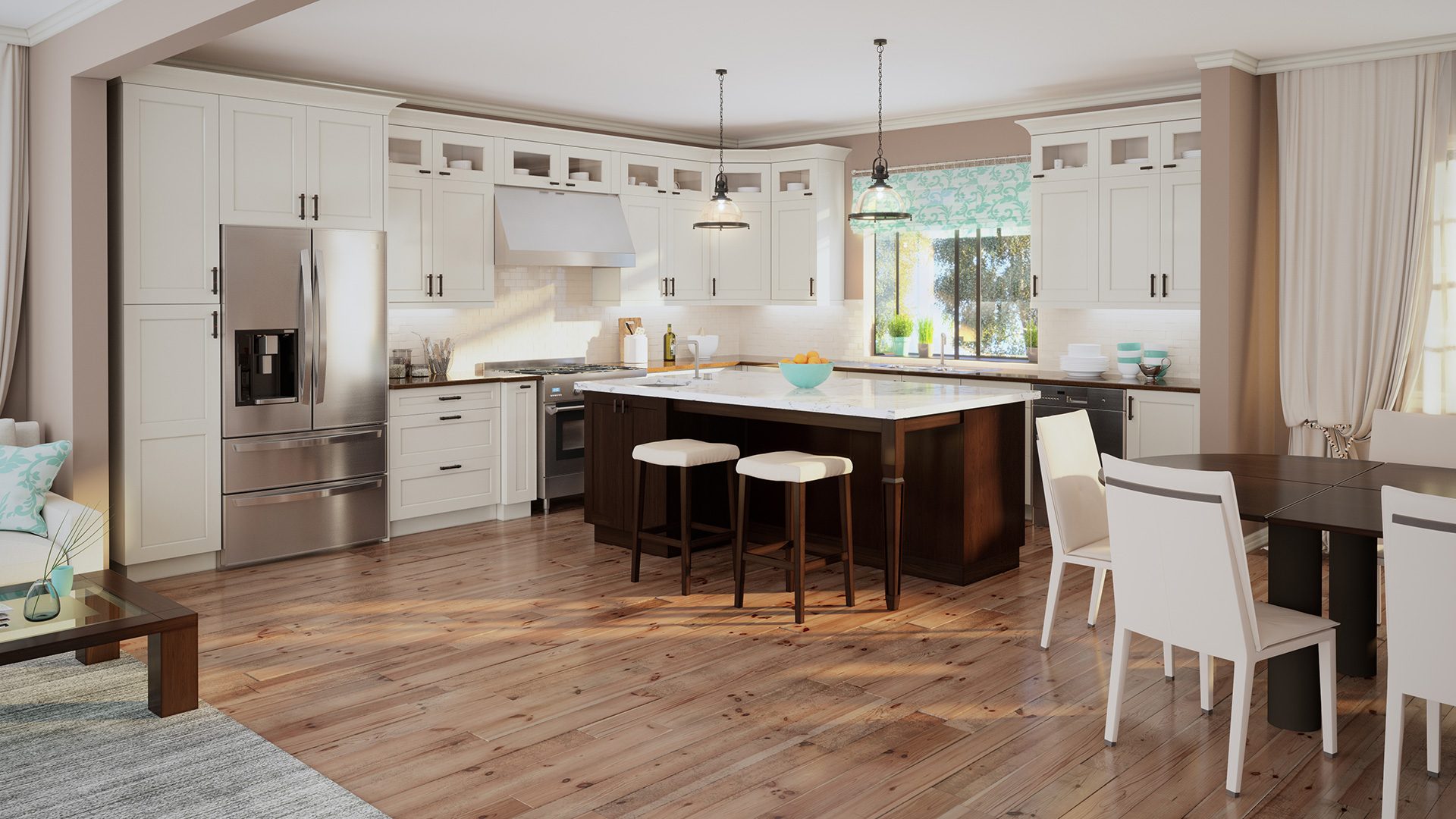 Don't forget about a warmer, more traditional style of Shaker cabinets. Finished in Antique White, the Shaker-style cabinet is perfect for every style kitchen from traditional to country or contemporary. The clean lines of Shaker-style cabinets and the creamy antique white finish pair perfectly to create a timeless look in any home.
Antique white Shaker-style cabinets pair well with darker hardware, fixtures, and accessories. With stainless steel or black appliances, and a darker color kitchen island, the antique white kitchen cabinets provide an attractive contrast.
At CabinetCorp, you can purchase all Shaker-style kitchen cabinets for shipment as fully assembled units or RTA. With CabinetCorp, you'll gain significant cost savings and end up with beautiful, easy-to-install cabinets – to benefit both you and your client. Visit CabinetCorp today to see our complete selection of quality kitchen cabinets.