Kitchen and bathroom renovations are the single most important way to add value to homes. But, of course, they're also the most disruptive and expensive. Having the stove unplugged and a fridge and microwave in the garage, porch, living, or dining room while renovations are ongoing will test the patience of any homeowner.
While some may think they want custom cabinetry, the reality of long lead times and higher ordering costs double standard kitchen cabinets. The need to find an expert kitchen contractor for the design and installation of standard kitchen cabinets makes them a far more viable option. Those homeowners who can afford custom-built homes or are dealing with unusual spaces are probably the only exceptions.
Even standard dimensions for kitchen cabinets and standard kitchen cabinet sizes aren't one-size-fits-all, their selection can be customized to fit the space available and homeowners' needs. For example, pull-outs for base and utility cabinets such as drawers, carousels, or lazy susans for corner cabinets are ways to make the kitchen more efficient. In addition, eliminating shelves and replacing them with racks in over-the-stove kitchen cabinets allow homeowners extra storage for baking sheets and serving trays.
In tall cabinets, a homeowner can create room for brooms and mops in a broom closet. These are just a few examples of easy and relatively inexpensive ways to increase standard kitchen cabinet functionality. For example, two tall cabinets in a spacious kitchen — one with lots of pull-outs and shelves and one with next to none — might eliminate the need for a separate pantry while allowing for storage of (and easy access to) mops, brooms, pails, steamers, vacuums, and floor polishers.
How to Measure Kitchen Cabinets
If a homeowner is merely replacing existing cabinets for cosmetic reasons or because they're at the end of their useful life (usually 10 to 15 years). Measuring existing kitchen cabinet dimensions from the outside is probably all that's required for common kitchen unit sizes.
If, however, cabinet replacement is part of a larger kitchen remodeling project, you'll want to create a more extensive blueprint that includes floor level measurements, window, and door placement, wiring, plumbing, and gas lines, as well as light switches and fixtures. Here's a thorough guide to the average measurement of a lower kitchen cabinet and upper cabinets that you should consider before ordering new kitchen cabinets for a renovation. Kitchen designers can also help you map out cabinetry with kitchen dimensions.
Base Cabinet Dimensions
| | |
| --- | --- |
| Standard Cabinet Height | 34.5-inches (36 inches with countertop) |
| Standard Cabinet Depth | 21 or 24 inches; depth for a cabinet with a Lazy Susan is 33-inches. |
| Standard Cabinet Width | 12, 15, 18, 21, 24, 26.25, 27, 30, 33, 26, 39 and 42-inches. Filler cabinets come in 6 and 9 inch widths. |
Standard cabinet height for base cabinets is almost invariably 34.5 inches. While that may be too low for really tall individuals who shouldn't have to stoop to use their kitchen surfaces, this base height can be easily increased by adding a countertop underlay or choosing a thicker countertop. An inch or an inch and a half can make a huge difference in cabinet size and installation.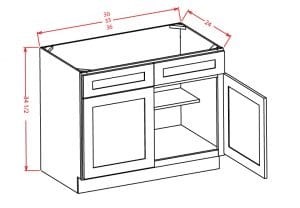 Base cabinets are rarely more than 24 inches deep, for a good reason. Anything deeper makes items stored at the back of the cabinets almost impossible to access without pull-out fittings.
Base cabinets are the workhorses of any kitchen. They support countertops, surround, dishwashers and sinks, and allow for cutlery drawers. Base cabinets vary much more in width than in-depth or height. Available in 3-inch increments, in widths that range from 9-inch to 48-inch widths. Base cabinets are the most customizable standard kitchen cabinets and will help you make the best use of the dead space in the kitchen.
Kitchen Wall Cabinets Sizes
| | |
| --- | --- |
| Standard Cabinet Height | 30, 36, or 42-inches based on your preferences and ceiling height. |
| Standard Cabinet Depth | 12 or 24-inches. |
| Standard Cabinet Width | 12, 15, 18, 24, 27, 30, 33, and 36-inches. Filler cabinets come in 3, 6, 9-inches. |
Upper cabinet height will vary based on both space available and aesthetics. Since they need to be positioned 18 inches above the countertops, choosing kitchen wall cabinets is a decision to be made after selecting both base cabinets, countertops, and filler layer (if any). The height of the cabinet above a kitchen sink hangs between 24-inches and 36-inches above the countertop. This allows for ample overhead space.
Wall cabinets supply the kitchen equivalent of a home's exterior "curb appeal." They are easily accessorized. Glass inserts, interior lighting, contrasting cabinet fronts, and, of course, luxurious or whimsical cabinet knobs or magnetic cabinet latches are just a few of the ways standard kitchen wall cabinets can be customized. Some homeowners want crown moldings and display space above their kitchen wall cabinets; others want the wall cabinets to go right to the ceiling so everything can be neatly contained.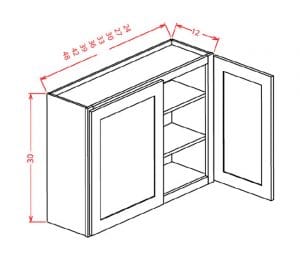 Upper cabinet heights include 12-inch, 15-inch, 18-inch, 24-inch, 30-inch, 36-inch, and 42-inch options, with shorter cabinets above fridges and stoves. Standard depths are 12, 15, 18, 24 inches, but 12 inches is the most common depth for regular wall cabinets used to store food and dishes. This depth allows sufficient space beneath the cabinets to make countertops ranging in depth from 24 to 26 inches usable.
Over-fridge cabinets are usually 24 inches deep, while 15- to 18-inch wall cabinets tend to be used over microwaves. Like base cabinets, standard wall cabinets come in widths ranging from 9 to 48 inches in 3-inch increments. There are, however, few kitchens that can accommodate 48-inch-wide wall cabinets.
Tall Cabinet Dimensions
| | |
| --- | --- |
| Standard Cabinet Height | 84, 90, 96 inches. |
| Standard Cabinet Depth | 24 inches. |
| Standard Cabinet Width | 18, 24, 30, 33 inches. |
Tall pantry or utility cabinets are often the roomiest of kitchen cabinetry. Standard tall cabinets are 12 or 24 inches deep and come in 12-inch, 24-inch, or 36-inch widths. These cabinets give you the option for a kitchen pantry cabinet widths of 12-inches, 24-inches, or 36-inches. They range in height from 84 to 96 inches (with 96 inches being a floor-to-ceiling cabinet in a room with standard 8-foot ceilings).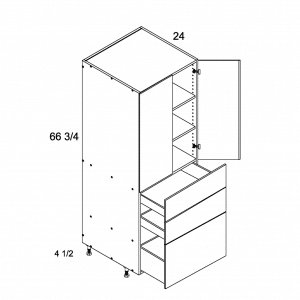 Pantry cabinets are usually 12 inches deep, while those used as utility cabinets tend to be 24 inches to accommodate brooms, mops, vacuums, and other floor-cleaning appliances.
Narrow pantry cabinets (in a 12-inch width) with the right storage fixtures hold a surprising amount of food. However, if the homeowner wants pull-outs or storage installed on the back of the cabinet doors and inside the cabinet, 36-inch-wide tall cabinets are recommended. Most of the time, 24-inch-wide tall cabinets work well for both pantry and utility cabinets.
Frequently Asked Questions About Standard Kitchen Cabinet Dimensions
What are standard kitchen cabinet widths?
Standard cabinet widths vary depending on the cabinet type.
Upper kitchen cabinets are 12, 15, 18, 24, 27, 30, 33, and 36 inches.
Upper filler cabinets are 3, 6, and 9 inches wide.
Standard base cabinet widths are 12, 15, 18, 21, 24, 26.25, 27, 30, 33, 26, 39 and 42-inches.
Base filler cabinets in 6-inch and 9-inch widths.
Tall cabinet widths are 18, 24, 30, and 33-inches.
What is standard cabinet height?
The height of a standard cabinet varies depending on the cabinets.
Base cabinets – 34.5-inches or 36 inches with countertop.
Wall cabinets – 30, 36, or 42-inches
Tall cabinets – 84, 90, 96-inches.
How deep are kitchen cabinets?
Base cabinets are 21 or 24-inches deep. The depth for a cabinet with a Lazy Susan is 33-inches.
Wall cabinets are 12 or 24-inches.
Tall cabinets are 24 inches deep.
What are standard base cabinet widths?
Base cabinets come in various widths to fit even the smallest spaces to make them more efficient. The standard base cabinet widths are 12, 15, 18, 21, 24, 26.25, 27, 30, 33, 26, 39 and 42-inches. Filler cabinets are available in 6 and 9-inch widths.
For more information and helpful info to guide discussions of kitchen renovation options with homeowners, download our in-depth guide to standard sizing for kitchen cabinets and accessories builders and kitchen contractors.
DOWNLOAD STANDARD KITCHEN CABINET SIZE AND DIMENSIONS GUIDE
In addition, our expert kitchen designers can help you with the kitchen layout and designing the perfect kitchen cabinets at no cost.