As your client's kitchen remodel gets underway, they'll need to gear up to make many choices. One of those choices involves new cabinet hardware since every cabinet door and drawer needs either a knob or pull. Depending on your client's style and the look they want to accomplish, they can use one type of hardware throughout or get a bit more adventurous with a mix-and-match approach.
Cabinet hardware, pulls and handles, can come in different finishes to lend itself to a particular style, like a chrome finish for a modern kitchen or a matte or brushed metal look in a traditional style kitchen. Hardware is the icing on the cake; no matter how nice the cabinets look, the hardware can change the feel of the entire kitchen. That is why choosing the right mix of cabinet hardware is crucial to the overall design.
Why Mix Cabinet Hardware?
The two main reasons your clients may want to use more than one style of hardware? Function and style.
Hardware function
It can make practical sense to select pulls for specific applications and knobs for others. Before they get too far down the road with their choices, you can help your client understand how some kitchen cabinets are better suited to a specific type of hardware. For example, knobs often work best on doors, while pulls work well for drawers or other pull-outs. Smaller versions of either a knob or a pull make a good choice for a rollup door or flip-down drawer, while a large pull works best for paneled appliances, where a cabinet front is placed over the appliance door.
Hardware style
Your client can inject character and visual interest into the finished look with a mix of different hardware types. The mixed approach works best in a larger kitchen where various handle types won't create a cluttered impression the way it might in a smaller space.
If the kitchen has 20 or more doors and drawers, you can easily accommodate two hardware types. In a smaller kitchen with fewer than 12 doors and drawers, your client will likely be happier sticking to one hardware style.
When mixing and matching cabinet hardware, counsel your client to avoid mixing the actual finish. If white hardware is the preferred choice, encourage them to keep the same color and texture throughout the kitchen, even if they choose a mix of styles. A brushed nickel finish is an entirely different look than a smooth-plated nickel finish; bringing both finishes into the mix can work but needs to be done with care.
How to Choose Kitchen Cabinet Hardware to Complement Decor
How will the cabinet hardware look next to the other fixtures in the home? It's not a hard and fast rule for cabinet hardware to match, but it does need to be complementary.
You can mix the finishes among the faucet, lighting, appliances, and cabinet hardware. It's also wise to guide your client to choose a finish that works in the kitchen and coordinates well with the finishes in the rest of the house. If possible, get hardware samples so your client can compare their possible choices next to other fixtures and appliances.
Of course, your client can decide to change the hardware at any time in the future; remind them to bear in mind that they'll want to update with the same type of hardware, i.e., replace knobs with knobs and pulls with same-size pulls – unless they also expect to replace doors and drawers. Your best case is to help the homeowner choose a look they will like over the longterm.
Hardware for every style of kitchen
Whatever kitchen style your client chooses – traditional, transitional, modern, or contemporary – there will be a range of complementary hardware to consider.
Traditional kitchens typically have more ornate cabinetry. Simple curved knobs and pulls work best to blend in and not compete with the cabinet design and detract from the overall look.
In a transitional kitchen which blends traditional and contemporary styles, the cabinetry chosen will dictate what hardware styles will look the best. If the cabinets feature a flat-panel modern look, tubular pulls and square knobs with rounded corners make a good option. (Just a warning – if your client is particular about symmetry, be sure to recommend round knobs since they will always line up, even after they turn slightly with daily use.)
If the client's transitional kitchen cabinetry choice leans more traditional, it opens up choices in pulls and knobs with a slight decorative style.
Modern cabinetry can vary. Frameless cabinets often have no handles. If there is a handle, it should be sleek and straight. You'll often see thin pulls throughout a modern kitchen, so the hardware blends in and is barely noticeable.
Kitchen hardware ideas
Some homeowners have a hard time visualizing how their new kitchen cabinets will look with different hardware. Here are a few kitchen hardware ideas that work well with current cabinet trends.
Hardware for dark gray cabinets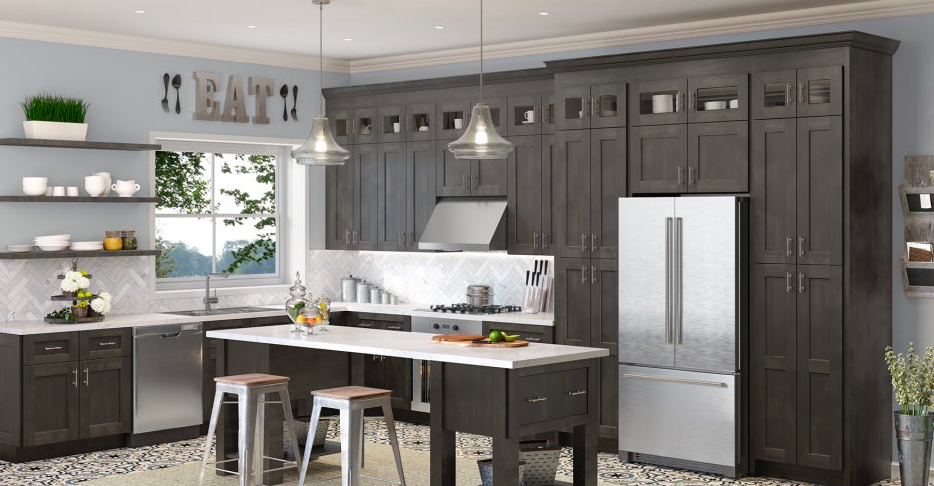 Dark gray cabinets can accommodate many styles and finishes of hardware. Today's trending hardware for dark gray kitchen cabinets includes finishes in black, oiled bronze, champagne bronze, brushed nickel, stainless steel, and chrome, depending on the style of the kitchen the homeowner prefers.
Hardware for dark kitchen cabinets
Dark kitchen cabinets – in colors like black, gray, and blue or dark wood finishes in cherry, sable, or chocolate look good with many of today's popular cabinet hardware colors. Homeowners can choose from stainless steel, brushed nickel, gold, black or oiled bronze.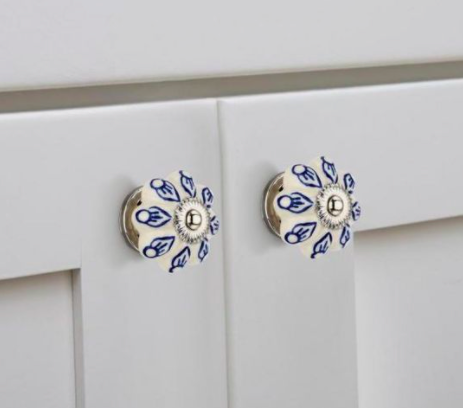 White kitchen hardware is a good choice when a more ornate knob or pull fits the bill. White knobs and pulls are often paired with white kitchen cabinets and used to bring out another color in the room or distressed white hardware for a rustic feel.
White kitchen cabinets with black handles

You might see handles in black, stainless steel, brushed nickel, oiled bronze, or gold with a white kitchen cabinet. Black handles are often the look of choice in a contemporary or transitional style kitchen with white cabinets.
Find the perfect hardware for your kitchen project.
The first step for any remodeling project is to help your clients choose kitchen cabinets to optimize their kitchen layout. When you work with an expert kitchen designer, you can help your client narrow down their choices to speed up the design and ordering process. Let one of our expert designers help you plan out your next kitchen project. With cabinets chosen, decisions about knobs pulls, or a combination of the two, especially with the designer's recommendations. Make your appointment today.