2020 has seen style trends evolve in the kitchen industry, all leaning toward warmth, personalization, and simplicity. Minimalism is still big, but not everyone wants their treasures hidden away in a drawer. Keep these top kitchen cabinet colors and styles in mind to help your clients find their own best mix of style and function.
1) Popular cabinet styles in 2022
Kitchen cabinet styles are moving away from the ornate embellishments and overlaid designs that worked well with an Old World look. A clean, modern look remains in demand even among homeowners with traditional-style homes. The Shaker style continues as a top choice in cabinet style, and industry sources report increased orders for frameless cabinets with either a high-gloss or matte finish.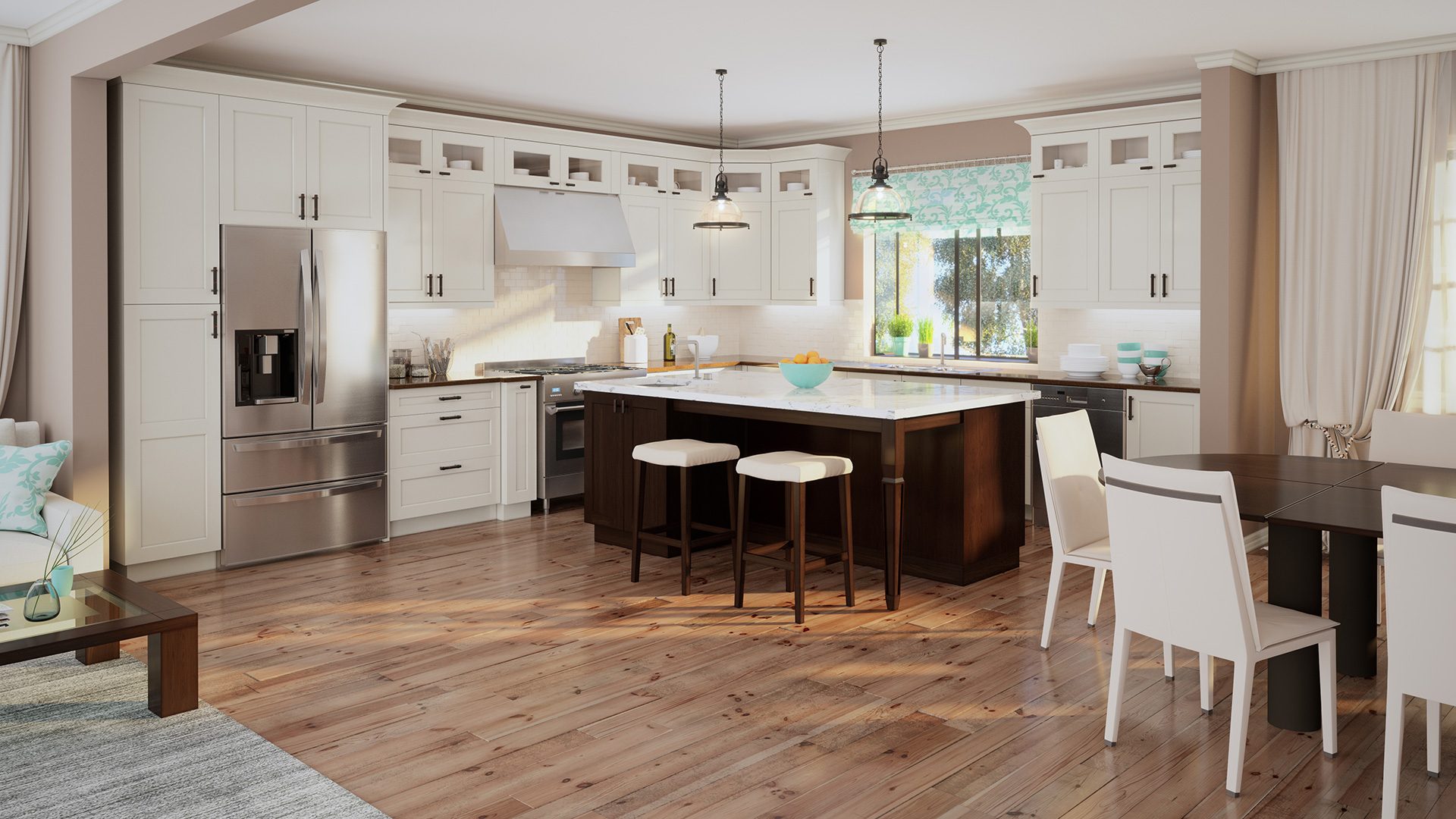 Homeowners develop their own unique look by mixing solid door cabinetry with glass fronts and often choose open shelving for some upper cabinets to showcase attractive dishware and stemware.
2) Trending kitchen styles this year
One kitchen style gaining traction is the addition of art for the sake of art. Food- or farm-themed décor is on the way out, likewise accent art such as oversized flatware on the wall or decorative accessories with a coffee motif. Homeowners feel increasingly free to showcase their favorite art in the kitchen and dining area, without being bound to a food theme.

The kitchen backsplash is another area where homeowners choose to bring in their own creativity and personality. And while white train station tile backdrop for makes a great backdrop for photos, art, and other accessories, many people go to bright and bold backsplash colors that offer an exciting contrast to their cabinet and countertop.
Choices for countertops are as varied as the popular kitchen cabinet colors. With options that include white granite, quartz, and marble with veining that picks up the kitchen's darkest color, the countertop is becoming more of a style statement.
3) The popular kitchen cabinet colors for 2022
White continues to reign supreme as the top kitchen cabinet color and is in no danger of fading in popularity. However, more and more homeowners are stepping out to opt for more color in their kitchen.
What is the best color for kitchen cabinets this year? Color choices are all over the board, including white (as always) and a full spectrum of blues, greys, greens, blacks, and various wood grains. Homeowners today are moving away from one dominant color for the kitchen and prefer instead to add layers of color and contrast with two- or even three-toned cabinets.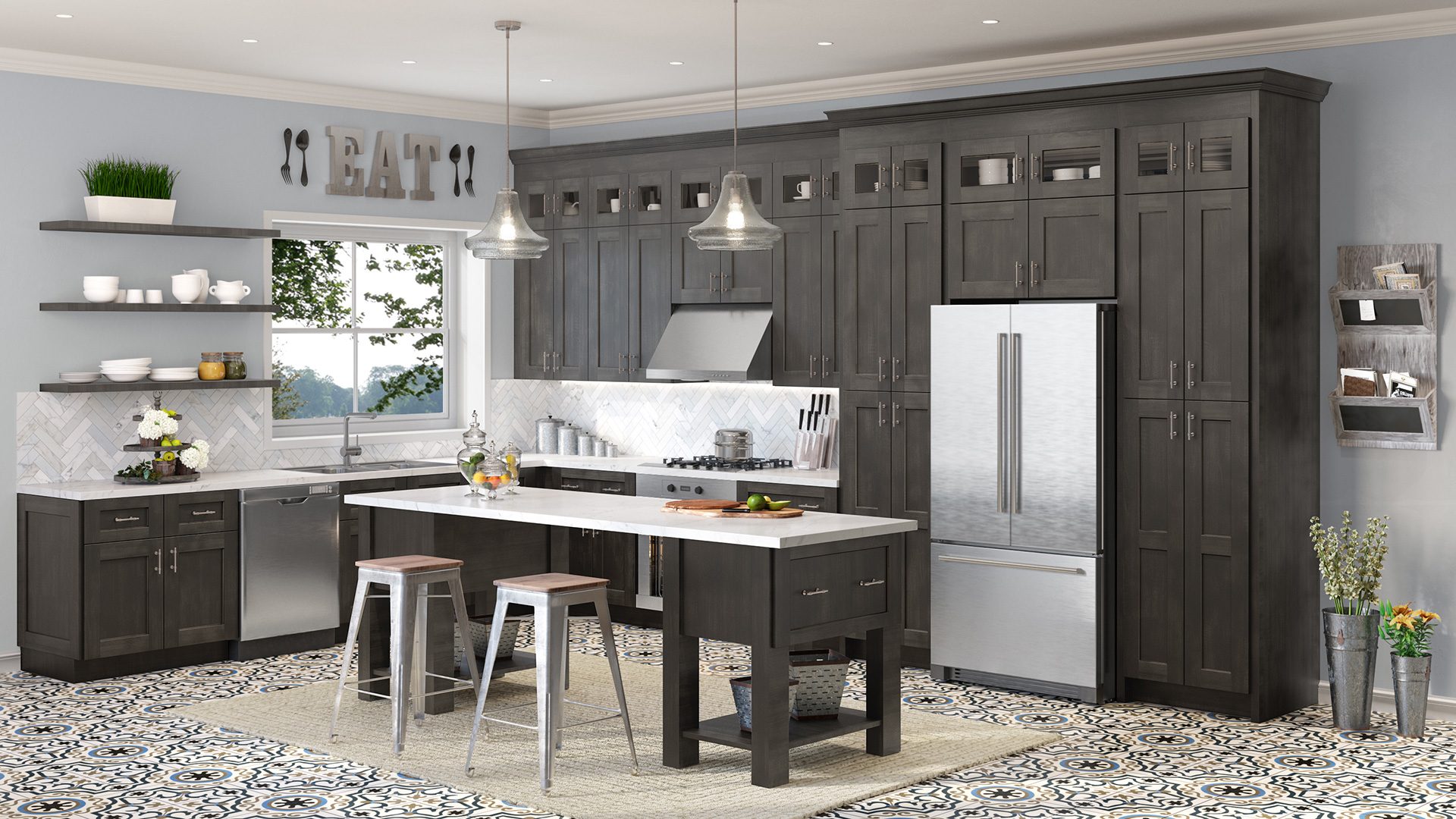 A two-toned kitchen might feature a lighter color of white or grey on the upper cabinets and then a coordinating color on the base cabinets, such as navy blue, grey, or black. For a more contemporary, monochromatic look, the base cabinets could be finished in a slightly darker version of the upper cabinets.
What is the most popular color treatment for a kitchen this year? Many homeowners choose a tone-on-tone look where the cabinet finish matches the wall colors. Others like to add a big pop of color with completely contrasting kitchen walls. Again, colors in tones of blue and grey win the day in 2020.
4) Trending kitchen accessories for the year
Choices for hardware, faucets, and light fixtures are trending away from uniformity, where everything matches. Designers and contractors help homeowners arrive at an attractive mix of metal finishes that might include brass lighting, nickel faucets, and brushed nickel hardware as one example.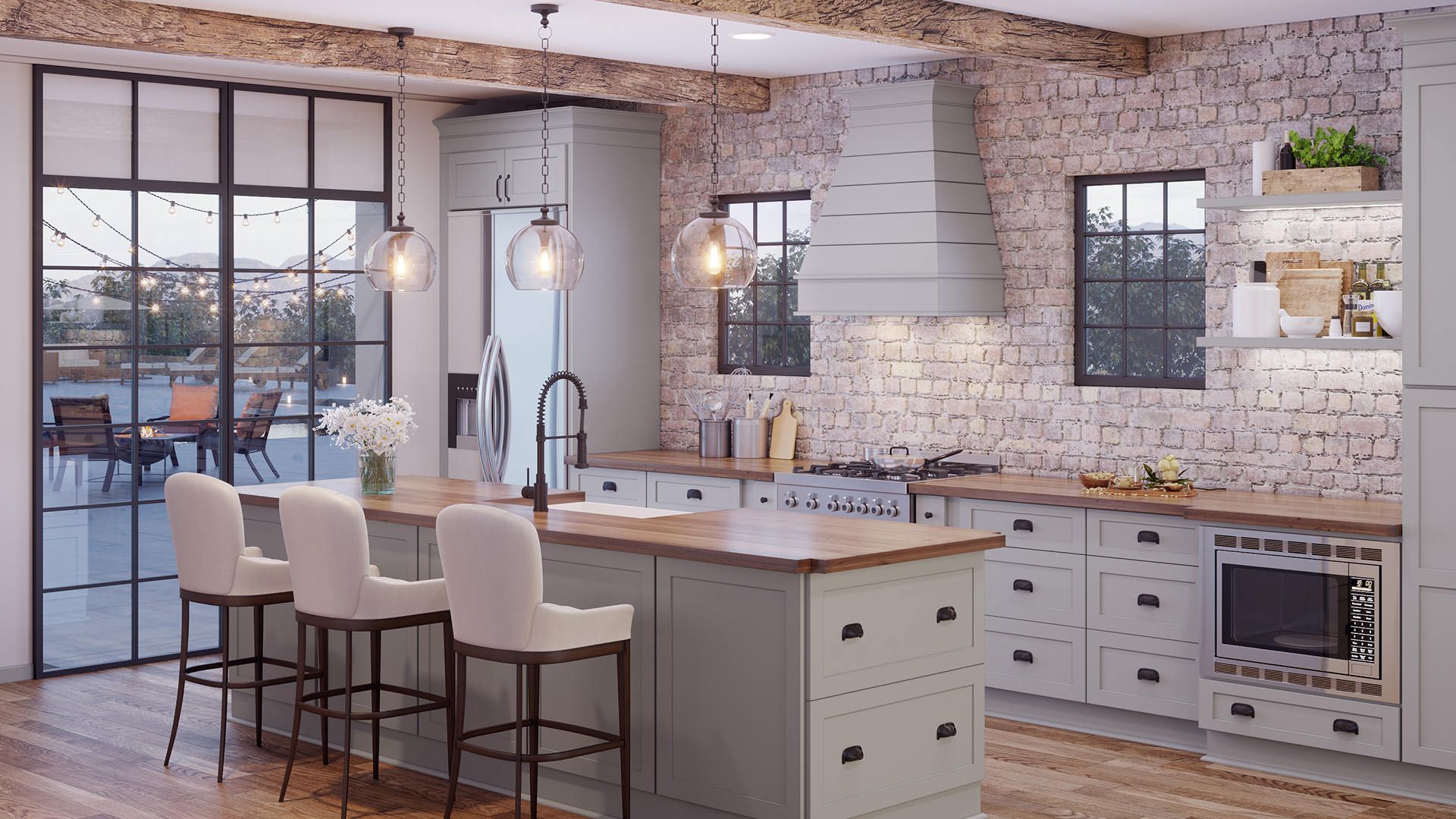 Those homeowners who opt for a warmer look in the kitchen are abandoning metal finishes in favor of more natural wood hardware. Wood handles and pulls add warmth to painted kitchen cabinets. The hardware itself is trending smaller in size, with a sleek look to blend in with the cabinets and not be a focal point.
5) More storage never goes out of style
While some homeowners like to display their dishware, others choose to install deeper drawers and other custom storage solutions. A large kitchen pantry is still high on the list of wants for any homeowner. But for those who do not have space for tall kitchen cabinets or room to convert a kitchen closet into a pantry, there are specialty drawer inserts, pullout shelves, and in-cabinet rollouts. These functional accessories create customized storage for pantry items, cookware, spices, and dishware.
As we head into the fourth quarter of 2020, demand for custom kitchen solutions – and new kitchen cabinets – continues to grow. Visit our photo gallery to see more semi-custom kitchen cabinets in the year's top kitchen styles and colors.