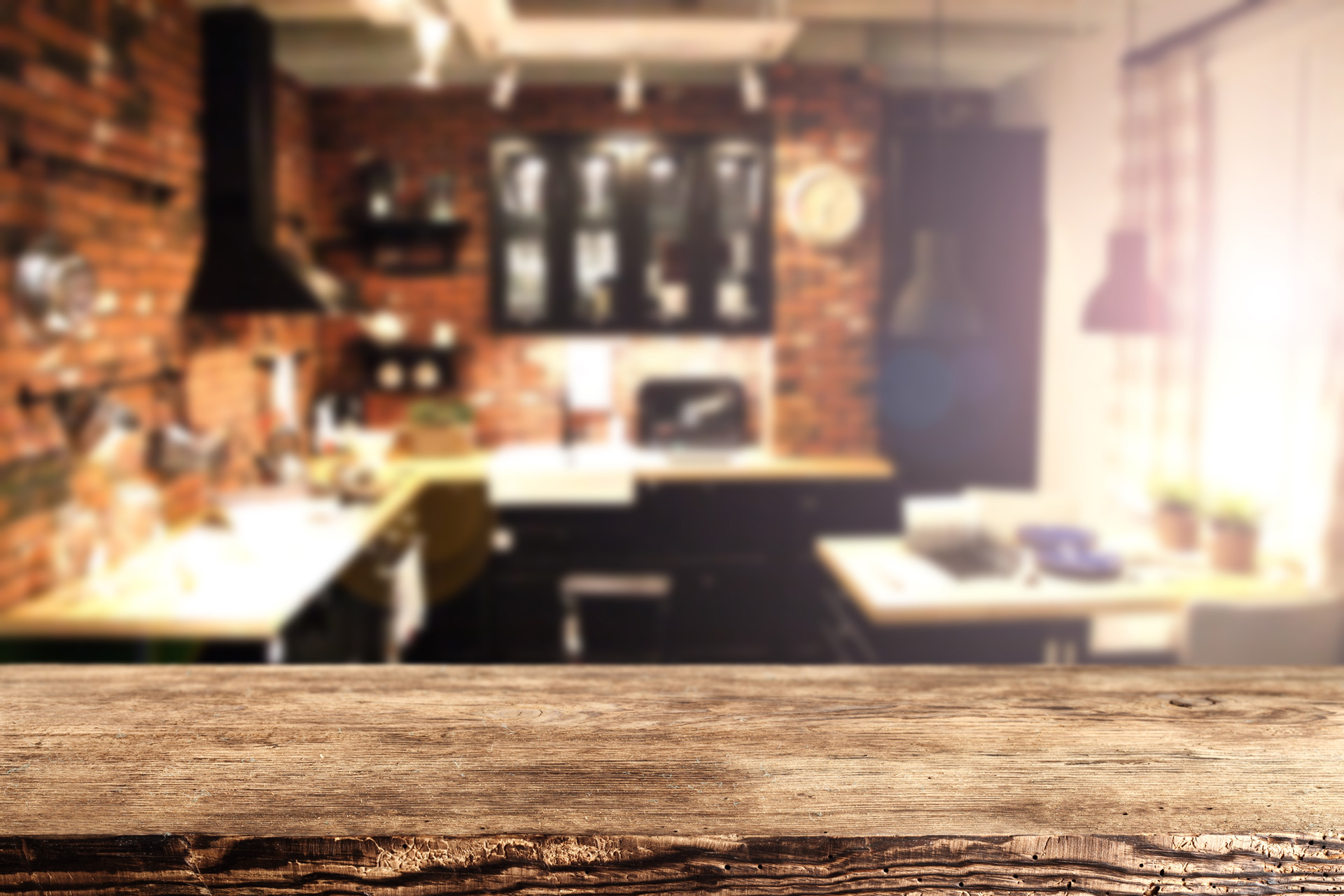 Rustic farmhouse kitchens are one of the most recognizable, and well-known kitchen design styles. We are sure you have come across the look before, whether on the television or in a glossy magazine. There is something very appealing and timeless about rustic farmhouse kitchens. Are you dreaming of your own kitchen refit and would love to get the rustic farmhouse look in your own home? Then, try these five easy ways to add the style to your kitchen. And, guess what? You don't even need to have a farm!
When you think of the rustic farmhouse kitchen, you think of a welcoming space, where you can serve hot apple pie and custard around a big wooden table. Then, scoop generous portions to your friends and family eagerly awaiting your delicious comfort food. With these five style choices, you can live the fantasy before you say, "rustic farmhouse kitchen."
Cabinets and Hardware
The signature sign of a farmhouse kitchen cabinets is a lovely, bright white color. This gives a timeless feel to the space. However, if you like a warmer color, you could choose a honey-colored wood or glaze with an antique finish, and this will maintain the rustic theme. Cabinet details such as glass doors (some, not necessarily all), and raised panels also convey the look you are after. Shaker style cabinets, with their clean and functional lines, make a perfect choice for the rustic farmhouse kitchen. To add a bit of extra rustic vibe, use distressed knobs and pulls on the cabinet doors and drawers.
A Kitchen Island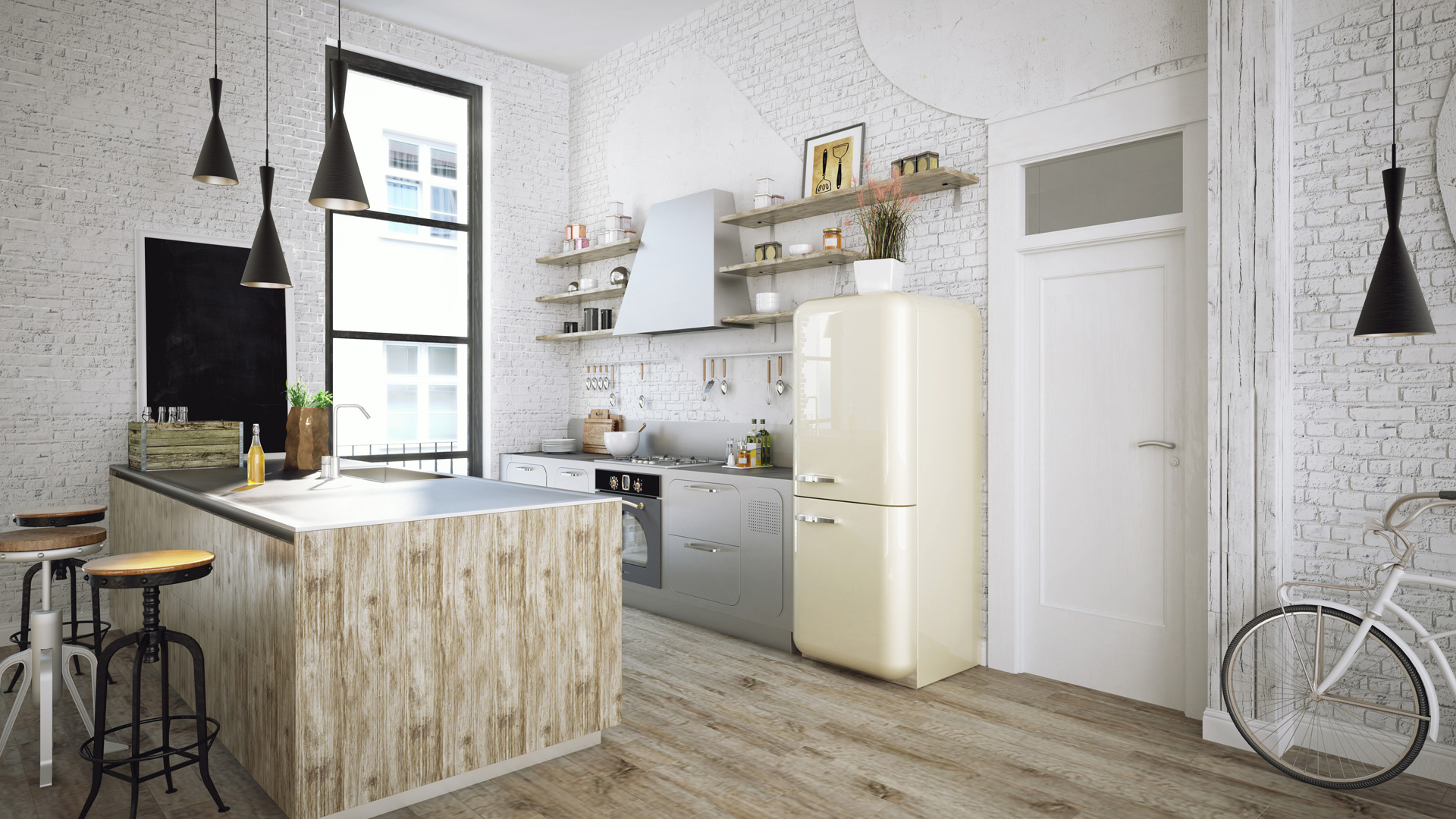 The farmhouse kitchen doesn't fit the bill without a good-sized kitchen island. After all, where will all your baking, dinner prep, dough kneading, and pie-making happen without an island? A typical material for a farmhouse kitchen island is a granite surface, but the look won't be complete until you add a chunky wooden chopping board. Another way to introduce a rustic feel is to use a wooden butcher's block. You could then fit inside-cabinet accessories such as a door mounted spice rack, chrome tray divider or a heavy-duty mixer lift. This way, the rustic look feeds into space while remaining functional at the same time.
Wooden Floors
A key feature of the rustic farmhouse kitchen is wooden floorboards. Wooden floors are wildly popular and come in an array of no-fail options such as wide or thin boards, straight lay or even herringbone layout. To get the rustic look, you should avoid highly polished wooden boards, choosing simplicity and a weathered, rough finish. If your property allows, make the most of any wooden beams you have in your space by exposing them. If your property doesn't have any wooden beams, then you could add some shiplap walls on an accent wall or around the space. You don't need to necessarily cover the whole wall from top to bottom – a ½ height shiplap wall on an exposed brick wall can give excellent results. You might have seen shiplap walls on HGTV's Fixer-upper. Designer Joanna Gaines used the look and triggered a trend for shiplap.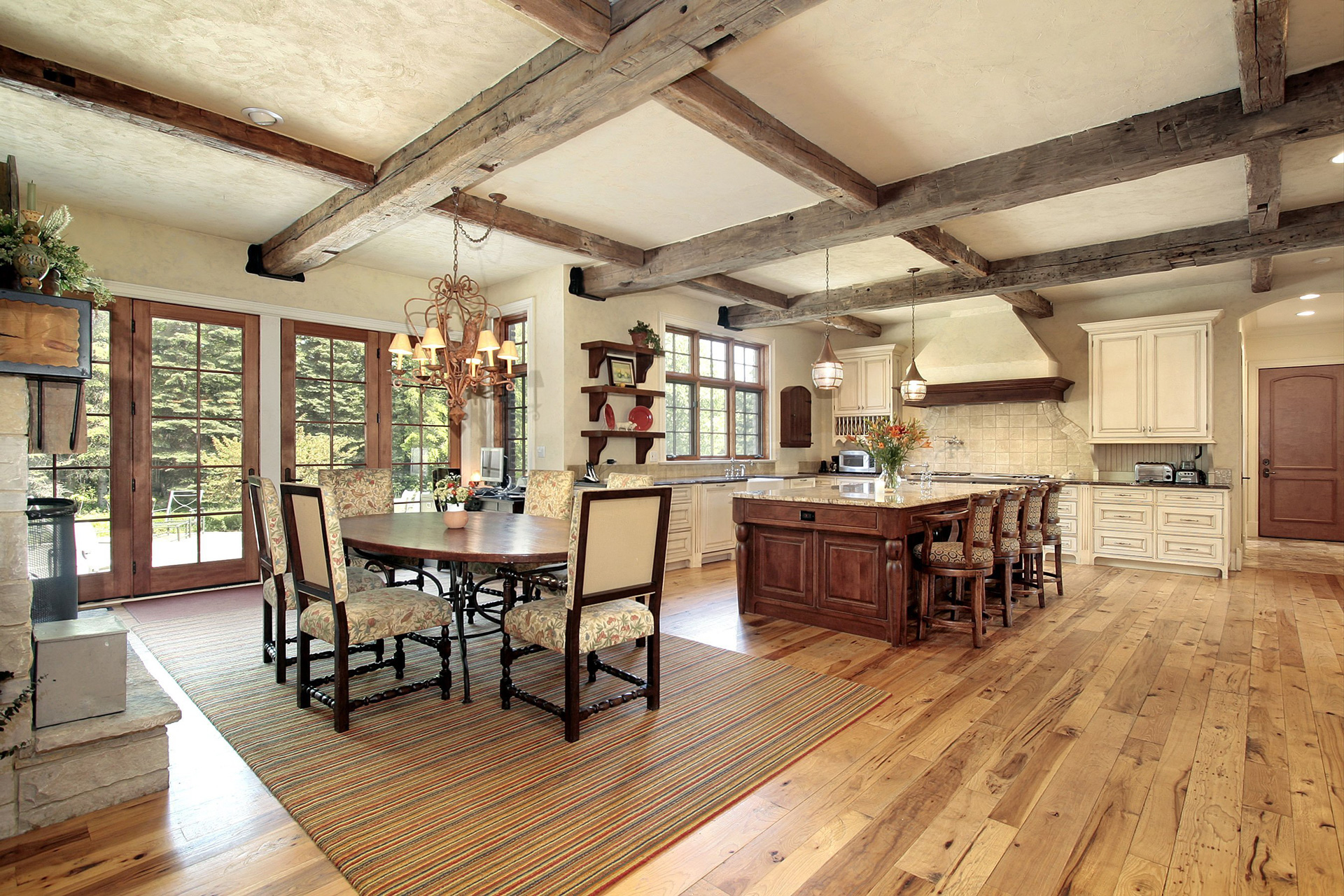 Farmhouse Sinks
A rustic farmhouse kitchen without an apron front farmhouse sink is like a dog without a bone. There are few details you can add to your kitchen, which shout rustic farmhouse quite as loudly as the farmhouse sink. Beautiful, as well as useful, you can choose between a single or double sink. Then, you have plenty of room to wash dishes and clean the freshly plucked chicken.
Natural and Industrial Elements
Use the details in your kitchen to complete the rustic farmhouse look. Choose items which hint at the farm lifestyle, and you have the right idea. For example, use a distressed farmhouse table, cane chairs, bar stools made with galvanized metal, cotton linens, large antique jars with flowers, woolen rugs, vintage tea jars, features which use bronze or nickel, one of those large teapots for boiling water on the Rayburn stove, a pile of cut wood in a straw basket in the corner…you get the idea!