Now that you've gone ahead and bought your new home, it's time to get settled in and make it truly yours. But before you start pulling in your furniture and putting up the curtains, there are some must-do's when you buy a new house. Here are a few tips on what you can do to make your new home more safe, more secure and more you.
It's always exciting when there's a new home to move into. We put a lot of our time finding the right theme for our living spaces, buying all the furniture we need and figuring out how to get the moving process going smoothly. But sometimes, we tend to forget the most important things when we move into a new home such as safety, security and cleanliness. But what all do you have to keep in mind and get done before you move in? Here's a checklist you can go by.
Clean Everything You Can

While it's rather exciting to get settled into your new home, remember that it belonged to someone else until very recently and that probably means some parts of them are still there: The hair in the carpet or that weird stain in one of the kitchen cabinets are good examples. So don't take any chances; start cleaning now. Steam vacuum the carpet, pull out the drawers for a good clean and leave no cabinet untouched by your cleaning supplies. With no furniture in the house, it's a good time to buff and seal wood floors too.
If there's one thing that most people forget to clean, it's the toilet and the seat. Make sure it's squeaky clean. You can deep clean the whole thing by removing the toilet seat and scrubbing it out. With that out of the way, the house will be ready to take on its new occupants and to start feeling just the way you imagined it would!
Make Sure You're Breathing Fresh Air
Another remnant of an old tenant are the air filters that are probably clogged up from use or disuse. Pull them out and give them a good clean. It's even better to change them, just to be on the safe side. Your builder has probably done this already but don't take a chance.
This fix can even save you money! The U.S. Department of Energy says that replacing your dirty air filter with a new one can lower your A/C's energy consumption by 5 to 10 percent.
The aerators cost about $7 each, and if there's been an accumulation of dust over the years, replacing them will improve the water pressure a great deal. Range vent filters can run $10 to $30, while heating and air filters are available for $5 to $30. So this is one inexpensive fix that can save you from expensive power bills and/or maintenance expenses.
Change The Safety Features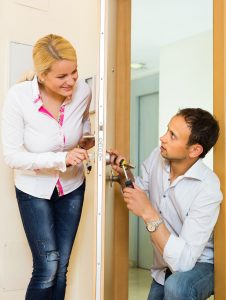 Although it's number three on this list, the most important thing to do when you move home is to change the bolts and locks on the door. This is not just important for safety but also for you to start afresh in the new house. You can't possibly know everyone who's had keys to the old lock and you sure don't want to find out. If you do this yourself, you will spend as little as $10 per lock or bolt but if you choose to hire a locksmith, the rate could double. But still, it's usually quite affordable to switch out locks when you move into a new place.
Replace the batteries in smoke and carbon monoxide detectors immediately. You can replace the fire extinguishers too. You can look at this in two ways: You're saving yourself from a loud, wailing battery when it's almost dying or you're saving lives. According to the U.S. Department of Energy, you can save up to 30 percent on your energy bill by making upgrades identified in an energy audit. During a professional energy assessment, an auditor will identify shortcomings in your home that can be fixed to save energy and lower your bills.
Check The Plumbing And Network

Plumbing can make or break a house and you need to get yours checked as soon as possible. Keep an eye out for dripping faucets or leaky toilets and also your water heater. A good way to know if you have a leak is to check the temperature on the nozzle once and again in two hours when no one has used the water. If there's a change, you might have a leak on your hands.
Since you may need professional help to fix your plumbing issues, it's always good to have a list of emergency contacts in hand. Ask the previous owners for a list of people and companies they used for their services. It's always good to go for these companies since they come with a personal recommendation from  someone in the neighbourhood. During this period, take some time to get acquainted with the water valve circuit breaker box in your home. You will need to know where they are if something goes wrong.
Call The Terminator
Armed with your contacts, it's time to bid the critters in your new home goodbye. It's important that you check for bugs, rats, mice, termites and roaches and get rid of them as soon as you move in. You can DIY this by using poison packets and sprays but if none of them work and you will need to bring in the experts. When you do, do your research and hire a good reputed company that comes with a local recommendation. An initial visit will cost you a little but recurrent visits will cost lesser. Also, when the house is pest-free, you will be happy about that investment you made on yourself and your family.
Take It Slow


While everything on the list might sound like an overload of information it's important not to panic and to take things one at a time. Plan the inspections and figure out what you really need, what can wait a while and what you don't need. In the end, your home might just be perfect and you may not need to do much to improve it. But if you do, then all you need is this checklist along with the contacts of the right professionals. And once you've fixed everything that need fixing what's left? Nothing but getting comfortable in your new home and watching some TV!