Staging a house has several advantages: When done correctly, it can greatly highlight the advantages of a house, while discretely drawing attention away from features that aren't very flattering. Read on to discover ways in which you can stage every room of the house you've flipped.
If there's one purpose of staging a house, it's to help home buyers enter into a reverie about how their lives might be in that house. Buyers find it difficult to project themselves onto a place that is dirty, cluttered or too personalized.
If you're house flipper, you're already at an advantage: You won't have to clear out the things that a family collected over the years. You will neither have signs of personalization, such as family pictures, distinctive art work or loud paint work to remove. What you will need to do is a thorough cleaning of the house to make sure the floors and all the surfaces aren't dirty or dusty; the toilets don't stink; the windows aren't grimy; the yards aren't unkempt or overgrown.
Once you've done a deep clean of the house, treat it as a canvas. Show potential buyers what they can do with space, the storage, the walls and the outdoor living spaces. You could hire a professional staging company or do it yourself with a bit of planning and lots of creativity.
Here's a to-do list for every room in the house to help you with your DIY staging project.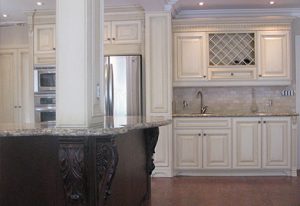 Living Room
Although the size of living rooms vary widely, it's the space that is the most frequented in a house after the kitchen. So, the furniture you use in the living room and the way you arrange them should agree with the size of the room.
Here are three things to keep in mind while staging living rooms:
Size Matters:

If it's a fairly large room, then arrange furniture away from the walls into cozy groups that at once suggest space and intimacy. Use an area rug with bold patterns to offset the furniture grouping and add character to the room.
Tie It Together:

A quick and easy way to tie things together in the living room is to include throws and cushions that complement the colour or design of your furniture. They can vastly improve the visual appeal of your living room.
Triangulate Accessories:

Pick accessories – books, mirrors, vases, trinkets – in groups of three. Then, arrange them in triangles, with the bigger piece set behind two smaller pieces. The triangular arrangement has been proven to be more pleasing to the eye.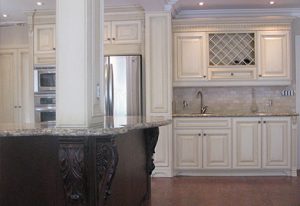 Kitchen
The kitchen is bound to be the room which receives the maximum footfalls in a house, meaning it's the most popular space where people cook, eat and entertain. It can sometimes single-handedly sell the house so you need to pay particular attention to the kitchen.
Here are three ways you can stage a kitchen that turns heads:
Let There Be Sparkle:

A professional cleaning of the kitchen counters, flooring, cabinets, appliances, faucets can go a long way in adding a sparkle to your kitchen. Make sure the air in the kitchen is fresh by spraying a mild air freshener and running your garbage disposal with a few lemon slices. Strategically placed spotlights can also help your kitchen shine.
Accessorize Simply:

The beauty of a kitchen can be enhanced with a few relevant accessories. Good-looking cookbooks stacked neatly on a shelf or on the counter; everyday dishes, preferably white dishes or clear glasses, displayed minimally on open shelves; a set of new tea towels that complement the colour of your cabinets; or, some fancy hand and dish soaps displayed neatly near the kitchen sink can amp up the appeal of your kitchen.
Be Natural:

One of the simplest ways to improve the look and feel of your kitchen is to let in natural light. A bright and airy kitchen feels roomier and more welcoming than one that is dark or closed. You could also add fresh cut flowers, branches or small container gardens to your kitchen to give it a homey feeling.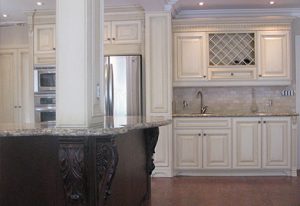 Dining Room
Whether the dining room in your house is formal or informal, there is a lot you can do to stage this space to your advantage. Everything you do should improve the brightness of the place, give enough space for buyers to move around as well as something to focus their attention.
Here are three ways to stage a killer dining space:
Let There Be Light:

Dining spaces that are dark and dingy are a big turn off for most homebuyers. Reflect more light into the space using mirrors positioned on walls opposite to windows. If you switched out light fixtures while flipping the house, then ensure your dining furniture complement those fixtures.
Wall Of Fame:

The walls in your dining space are prime spaces to display artwork. While hanging up artwork, remember that displaying them in conventional arrangements will make them almost invisible to buyers. Make your walls pop with artwork displayed in unusual patterns or mix them up.
Create Connection:

If your dining room is an informal extension of your kitchen, then consider painting both spaces with the same color to create the illusion of one big room. Also consider drawing the attention of buyers with a central piece on the dining table, like a large fruit bowl or a vase with fresh cut flowers.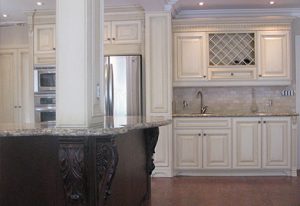 Master Bedroom
When buyers walk into the master bedroom, they do so with a lot of expectations: They want a room that is spacious, elegant and relaxing at the same time. While staging the main bedroom of a house, keep in mind that people come there to retire for the day – so creating a calming effect should be at the top of your list.
Here are three things that you can do to enhance the appeal of a master bedroom:
Be Austere:

Make sure your master bedroom isn't overcrowded with furniture – the bed should be the focal point, flanked by matching side tables and mirrored by a dresser or a full length mirror. If you have a particularly large master, then consider anchoring additional space with an upholstered chair or two along with dedicated lighting to create a cozy reading corner.
Calm With Color:

Colors can have a therapeutic effect

, especially light pastels or warm neutral colors. The color of your walls, the bedding, the curtains and any area rugs you add should work with each other to create a sense of calm. This extends to any accessories or art you add to the room.
Focus on Revealing Space:

Buyers looking at master bedrooms want to be shown the extent of its storage capacity. So, cupboards and walk-ins that are optimized for maximum space utilization (read, hanging shelves, behind the door shelves or built-in drawers) are things you should highlight.
To Be Continued…