As a general contractor, you know that designing a kitchen is a lot of work. When working with your clients, you have to make sure the cabinets fit in the available kitchen space, providing adequate storage and surface areas. Homeowners love the idea of a kitchen island and the extra storage it provides, but when is it actually beneficial?
As your online source for quality kitchen cabinets, we at CabinetCorp are happy to help contractors by providing them with information, tips and trends about kitchen remodeling projects. Consider the following tips when clients ask you when installing a kitchen island makes sense.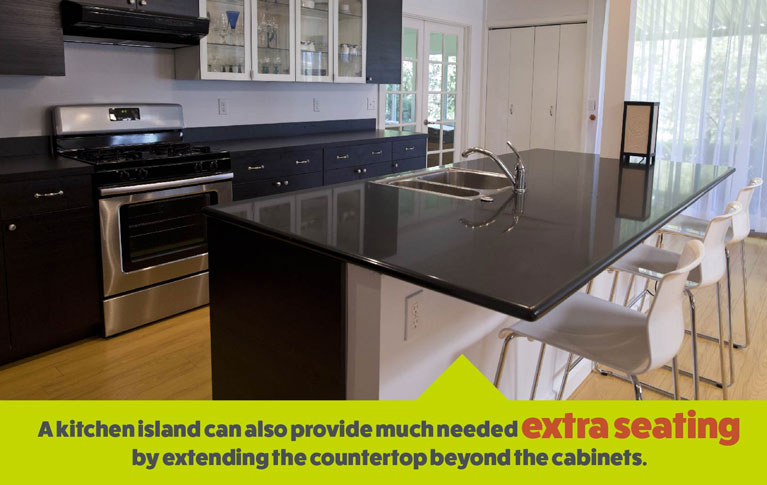 Limited Wall Space
If wall space is limited for kitchen cabinets but the floor space is plentiful, a kitchen island is a great option. It will give the homeowners more counter space while also allowing for more storage underneath. By combining several base cabinets of drawers and door cabinets you will create a customized base for an island. Imagine the countertop of your choice on top of cabinets like these.
Need More Seating
A kitchen island can also provide much needed extra seating by extending the countertop beyond the cabinets. A little breakfast bar is the perfect area to entertain family or guests. The breakfast bar gives a little extra counter space, which comes in handy for parties. It gives people more space and encourages them to hang out in the kitchen. The host doesn't have to be so separated from the rest of the party when there is a great gathering spot like the island.
More Than One Cook In the Kitchen
If there are several people in a family who enjoy cooking together, a kitchen island provides the needed additional working space. It gives each person their own work space without feeling like they are constantly bumping into someone else. The extra counter space works for having a prep station or to finish making a meal away from the sink and oven space. It is the perfect addition to a kitchen where the family enjoys all being together!
An island may not make sense in every kitchen, but it is a good addition in the places that have limited wall space and where additional seating is needed.
The benefit of using CabinetCorp for your kitchen remodeling jobs is that we make it easy for contractors like you. The wholesale cabinets are shipped directly to where you want them and are easy to install.
What do you think about these tips for kitchen islands? Ready to order your kitchen cabinets? Contact us today!