Everyone knows that cabinets are always the heart of any kitchen. They help to set the tone for the look or style homeowners want to achieve.
But sometimes homeowners are looking for changes or updates to a kitchen that don't require changing the cabinets.
Here at CabinetCorp, your online source for quality cabinets at great prices, we understand this completely. Homeowners always rave about our cabinets so it's easy to see why they're not ready to change out their cabinets after just a few years. With that in mind, here are five updates for the kitchen. Your clients will love these ideas and love you for presenting them.
New Countertops
For an instant update, consider replacing the current countertop. Nothing dates a kitchen more than tired countertops of yesteryear. Consider quartz, granite or laminate to update your kitchen with new countertops that complement your cabinets.
New Kitchen Island
An island of cabinets is a wonderful addition to any kitchen. Your kitchen island can provide extra storage, extra counter space for bar seating, an extra sink and the list goes on. Your island doesn't have to completely match your other cabinets. Black like our Shaker Jet can be a great color choice for an island and Shaker Gray is also a popular choice. It's a great way to mix it up in the kitchen.
New Backsplash
You might be surprised at how a new backsplash could make a difference in the kitchen. Be purposeful in your selection and the backsplash can really make a statement, adding some additional texture, design and color to your space.
New Hardware and Plumbing Fixtures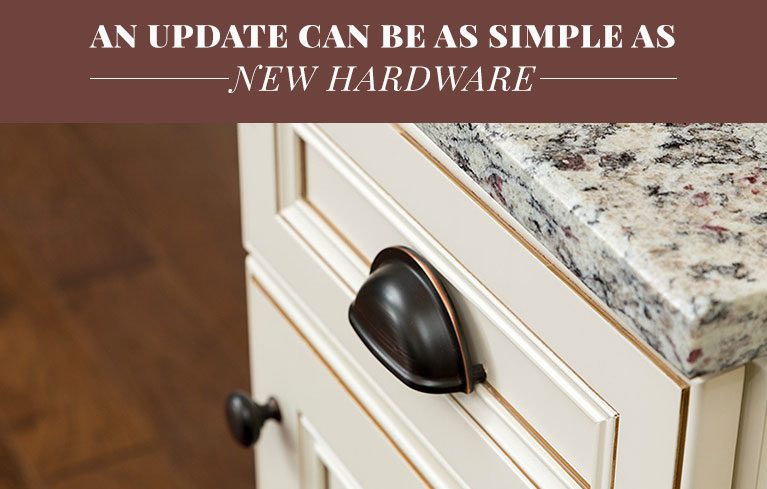 Sometimes an update can be as simple as new hardware for your cabinets and new fixtures for the sink. Think of this like jewelry for the kitchen. Use the hardware to help you set the tone for the space.
Let There Be New Lighting
When it comes to the kitchen, let there be light, lots of light. Kitchen lighting should be layered so think of a gorgeous overhead light, perhaps a chandelier in the center over your island, a couple of pendant lighting fixtures and then some task lighting beneath your upper cabinets. Now we're talking.
Paint The Walls
Never underestimate the power of paint to give your kitchen an updated look. And it's inexpensive too. Of course, we're talking painting the walls, not the cabinets. With the great finish on our cabinets and the great selection of colors – don't you love the new gray – your clients won't even think about painting their cabinets. But adding a new shade to the walls can do wonders.
What do you think of these ideas for updates to the kitchen? What else would you suggest? We'd love to hear from you. And if you're in the market for new cabinets for your home, contact us today.