Of course today's homeowners want cabinets in the laundry room. Not only do laundry room cabinets provide much needed storage space, but they also work double duty by ramping up the style and décor of the room.
As an online supplier of wholesale cabinets to contractors, CabinetCorp knows today's homeowners are looking for cabinets in their laundry rooms. That's why we've compiled this list to help contractors and readers of this blog make the most of using laundry room cabinets.
Extra Storage Space
Along with the laundry comes all the laundry detergent and accessories. Having good storage space is essential for today's homeowners. No one wants to see bottles of detergent, fabric softener and the like sitting on top of the dryer, creating a cluttered look. Those items should be stored behind a cabinet's closed doors. Laundry room cabinets are also a great spot for extra storage for towels and linens and other household cleaners.  We believe you can't have too much cabinet storage.
Countertops Are Great for Folding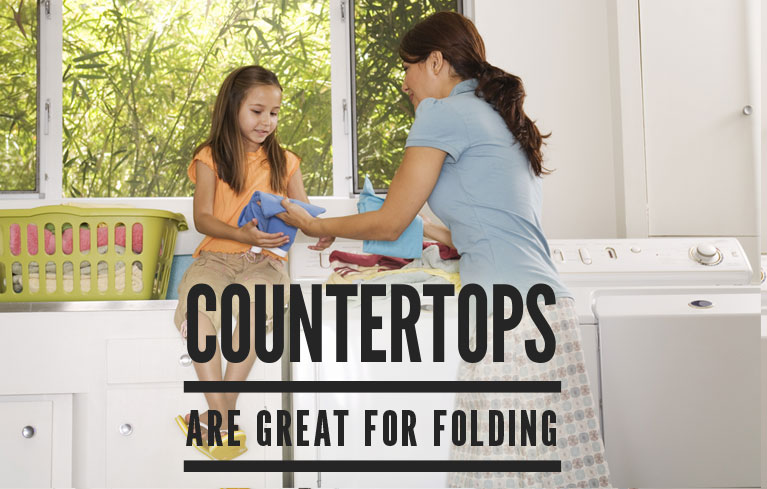 If possible, your laundry room should include at least one lower cabinet with doors or drawers. The countertop is crucial for this cabinet as it can be used for all the folding that is required in this space. If space allows, install one or two sets of lower cabinets.
Be Stylish
Just because you get bored with the task of laundry doesn't mean the laundry room cabinets have to be boring. As you plan your laundry room makeover, consider the look you are going for and choose the cabinet style and color, flooring choice and wall paint colors accordingly. With the many colors of washers and dryers available, today's homeowners have lots of options.  Likewise, you can choose from among the five styles and five colors of cabinets here at CabinetCorp.
Choose Tall Cabinets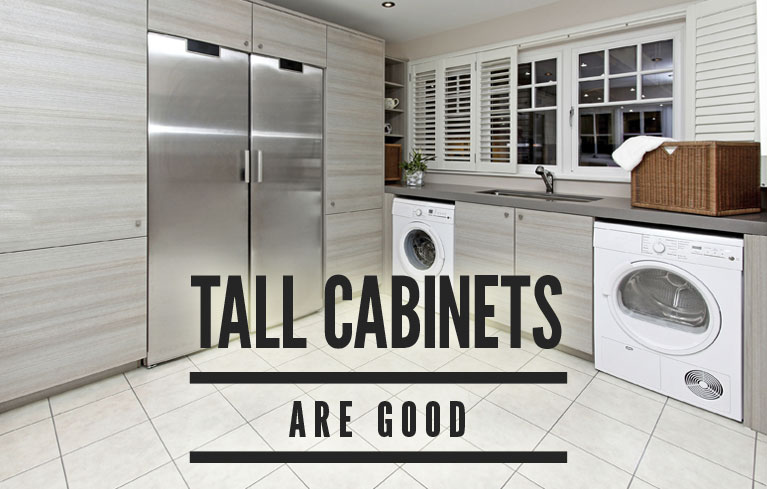 When choosing your upper cabinets, go for the tallest available. Here at CabinetCorp, we offer upper cabinets in 30-inch, 36-inch and 42-inch heights. If your ceiling height allows, go for the 42-inch upper cabinets to make the most of storage for your laundry room cabinets.
Bigger Isn't Always Better
You may have just a small laundry room or laundry closet but that doesn't mean you can't make the most of it. There is often still space for installing cabinets above the washer and dryer. You or your client will be glad to have the extra storage space.
Laundry room cabinets are a great asset to any home. As you're working with clients on other projects at their home, check out their laundry room and suggest ways to improve that space with cabinets. This could lead to more work for you.
Got more ideas about laundry room cabinets? We'd love to hear from you. Please comment below or on any or our social channels. Want to share this article? We've got the tweet ready for you!
Make your home's #LaundryRoom #cabinets both functional and fabulous! Here's how: http://t.co/082Z2htjKg

— CabinetCorp (@CabinetCorp) July 18, 2014
Connect with us on: