Got a kitchen remodeling project coming up? A new survey shows the importance of incorporating social elements into your work.
As an online supplier of wholesale cabinets to contractors, we at CabinetCorp like to keep our contractor clients and regular readers of this blog up to date on the latest trends related to kitchen remodeling. Knowing how today's homeowners are using their kitchens can help you as you design and make suggestions for kitchen remodeling.
Now more than ever before the kitchen continues its reign as the social hub of the home, according to a recent survey for the July issue of Consumer Reports. It's not just for food preparation, as many homeowners will likely tell you. According to the survey of more than 1,000 Americans, nearly half regularly entertain in the kitchen, while 58 percent go online there – think online recipes and social media sites – and 61  percent do their homework or paperwork in the kitchen.
As you talk up kitchen remodeling with your clients, consider this four step guide to incorporating social elements into your kitchen.
Kitchen Islands Are Hotter than Ever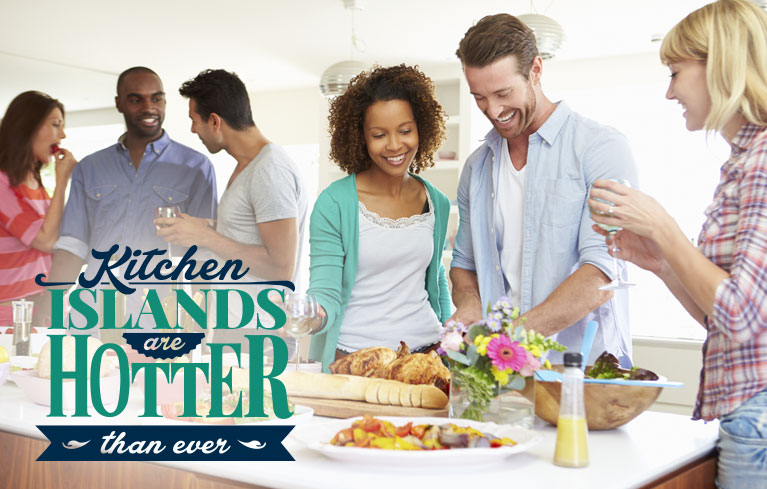 This is the perfect piece to a social kitchen because it offers seating space for your guests. It's also a great place for your kids to do homework. In addition to seating, the island also offers a lot of storage. Think lots of drawers and cabinet space on one or two sides of the island, but make sure there is still good flow around it. Leave 42 to 48 inches of space on all sides.
We Like to Eat in the Kitchen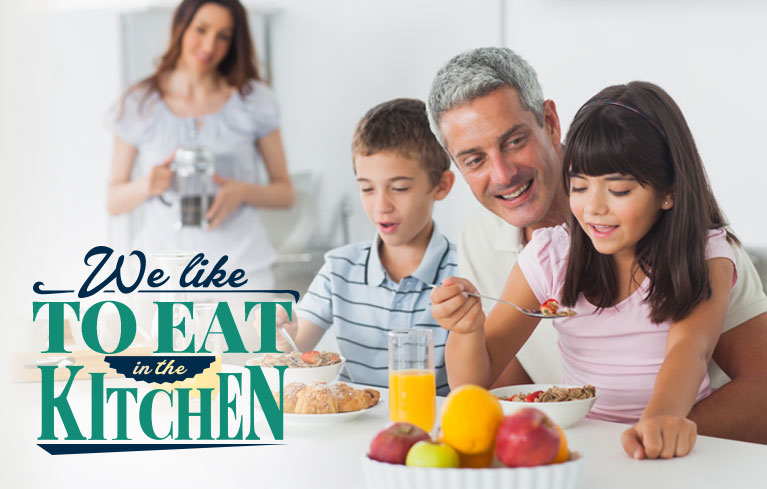 Built-in banquettes continue to make a comeback in today's kitchens. These are built-in benches that come with storage beneath. Add a table and chair and you've got the perfect eat-in kitchen. We've seen some of these built into a nook or right into the kitchen island. This also provides a place for your guests to watch as you cook.
A Place for Electronics
Today's busy homeowners need a place to charge all their electronics, from laptops and cellphones to tablets and more. And the kitchen is often the landing space for these gadgets. Consider adding a charging station into a cabinet drawer, complete with charging docks and electrical outlets. You may also want to add a U-socket to the charging drawer or along the backsplash. U-sockets contain a couple of USB ports, perfect for charging all your gadgets. Many of these come with sensors that shut off the device once charging is complete.
Don't Knock All the Walls Down
Sure, everyone is talking about an open kitchen these days, but there's no need to knock down all the walls, according to Consumer Reports. Consider using half-walls or even arched openings. These can help you create a sense of openness in the space while maintaining good traffic flow.
What do you think of these ideas? Are these features popular with your clients? If you have ideas or need assistance with ordering wholesale cabinets which are delivered quickly, please contact us or reach out to us on any of our social channels. We'd love to talk with you about cabinets and kitchen remodeling.
The #kitchen is the social hub of the home, so keep these #social elements in mind during your remodel http://t.co/Nx1WCCaNTZ

— CabinetCorp (@CabinetCorp) July 9, 2014
Connect with us on: